By now, it is well aware that advertising on social media platforms can harness a massive amount of brand awareness and bring fruitful results for businesses of all varieties. Social media advertising is important as the value received goes beyond what you can get organically these days.
There are a vast amount of benefits to advertising on social media. To name a few below:
Reach new customers

Unlike intent-based or key-word centered search engine ads, social media ads target users based on their interests, behaviours, and other demographic data. Whether you're considering running your ads on Facebook, Instagram, Pinterest, Tik Tok or Snapchat, social media advertising enables you to reach out to and connect with new people who may be interested and benefit from your products or services.
Low entry cost
In comparison to the usual traditional advertising, advertising on social media has a significantly lower cost, which means if you only have a small budget to use, you can still enter the auction and find returns. However, it is important to allocate a suitable amount of ad spend as you can learn more about what you can improve for your ads.
Gain audience insights
Advertising on social media allows you to utilize social platform built-in tools to better understand your target audience. With a vast amount of targeting options available, the more audience testing you can do to understand audience breakdowns and relate it to performance. Applying the knowledge you've learnt from performance metrics and breakdowns will help your future ad targeting and optimization.
Wide range of formats
The beauty with social media advertising is that you can get as creative and experimental as you want with endless tactics and options to showcase your business in the light you want. From static images to enticing video content, from horizontal and vertical orientations to square format, utilize every bit of the ad placement space to increase your ad real estate space on the screen so that the user won't be able to take their eyes off your ads. Video content has shown to be increasingly popular being easily digestible by users.
Accomplish more of your goals
Social media advertising can help you attain your goals whether it be expanding your business' reach and visibility, or to drive engagement around your brand. You can even increase website traffic or app use, optimize for users to add to cart, acquire more leads, and drive sales just by leveraging your ads on social media. After identifying where in the funnel your target audience is, you can then select suitable campaign types that relate to your goal at that stage and assist your users through the final and towards your desired conversion.
Advertising on social media gives you the ability to laser target your audience -reaching existing customers and finding new potential ones. We've previously written an article on Reaching the Right Audience with Google Display Ads, and also another article that can help you Effectively Identify Your Buyer Persona for Your Campaigns.
However, stepping beyond just advertising, you can also capitalize from the influx of online shoppers due to the booming trend of eCommerce. Some of these social media networks are beyond incredible and are adapting to fit the trending concept of 'Social Shopping'. Below are some of the most popular social media platforms, and how as SMBs, you can leverage its tools to your favour.
Facebook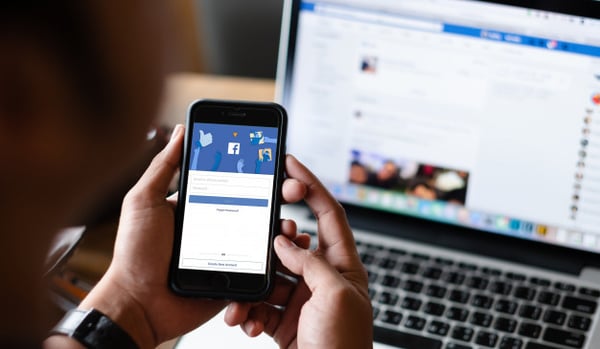 With roughly 2.8 billion monthly active users, Facebook is the biggest social network worldwide. Since Facebook came out with Facebook Marketplace, Facebook has made significant investments in its website, apps, and platforms in order to help small and medium-sized businesses.
As of today, companies can sell their entire inventory on the Facebook Marketplace, create mobile storefronts and catalogs in WhatsApp, and use ads to target and sell products to new and current customers. Most importantly, you can use Facebook Marketplace in any city, state, or country that Facebook can be accessed.
Platform Highlights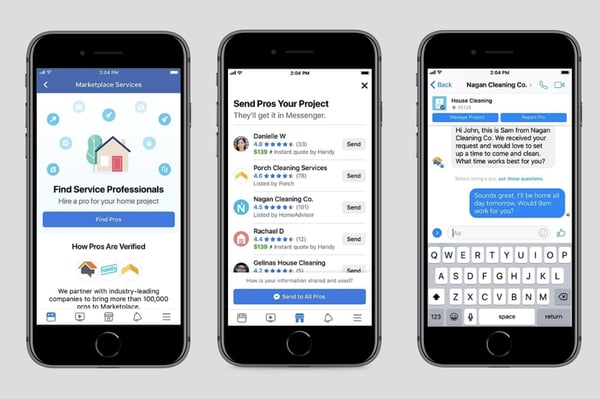 Facebook Marketplace is popular for its customer reviews and ratings -Facebook Reviews. These reviews are just as important as Yelp or Google Business reviews when it comes to SEO, organic search, and building trust within the community and your users. It is recommended to implement Facebook Reviews right away where your customers can write reviews and rate your business.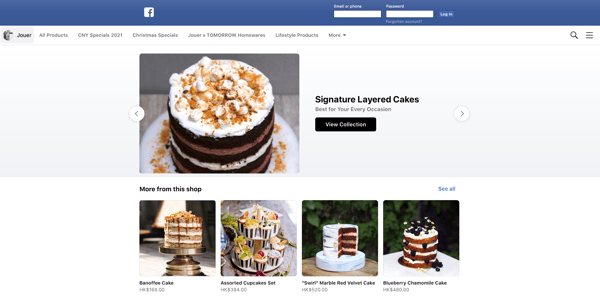 If you use Shopify, BigCommerce, WooCommerce, Channel Advisor, Shipstation, or any commerce engine to manage your inventory, you can sync your inventory seamlessly to Facebook Marketplace. After you submit your product feed, Facebook will then review your products and approve them so that your products are ready for sale on the Marketplace. However, it is not necessary to have an inventory software, you can still use Facebook Marketplace as long as you follow the instructions.
Instagram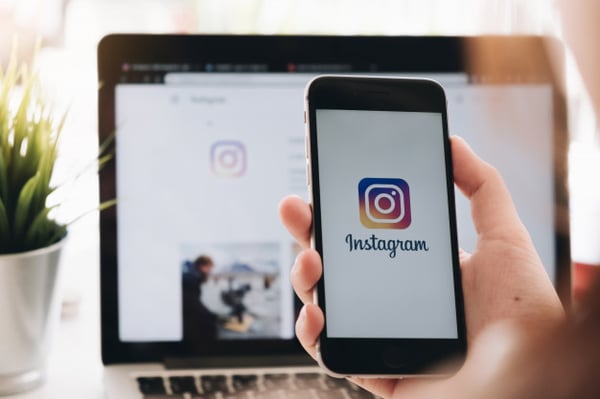 There are more than 1 billion people who use Instagram every month and 81% of people use the platform to research products and services. 130 million users tap on shopping posts every month alone, while 500 million people use Stories every day. Just like its other apps and platform, Facebook has made significant investments in further developing Instagram. Since Facebook purchased Instagram, they've launched Facebook Stories, IGTV, and Instagram ads (all of which allow people to shop in the app).
In Facebook's 2019 Instagram Shopper Survey, they found that 87% of Instagram users took action after seeing product information on Instagram. These actions included following a brand, visiting their website, or making a purchase online. The same survey also showed that 37% of those people also visited a store.
Platform Highlights
Suitable for any type of device, 'Shopping' ads are visible from the Instagram news feed and in the 'Shop' tab available in your Business profile. Several ad formats are available to display your products: photo (up to 5 products per publication), video, carousel (up to 20 products) or story.
When users see a shoppable post in their feeds, they'll see a tiny 'View Products' CTA in the left bottom corner of the image next to a shopping bag icon. When they tap the image, they'll see the product tags for each item featured, and can then click each one to see the Name, Price and learn more about the item. This is available for Stories too!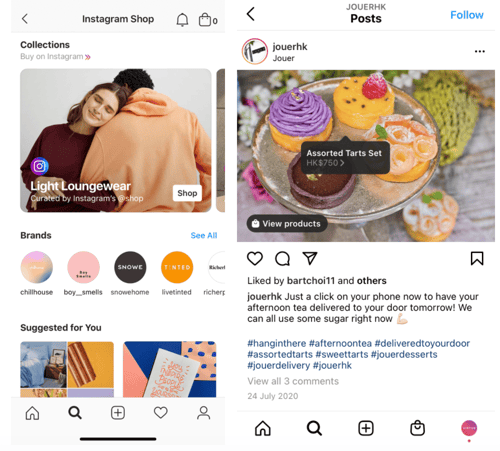 With the latest updates, Instagram has a new 'Shop' navigation tab at the bottom of the app interface that people can use to discover new products. This can funnel users who are interested in discovering products and even purchasing them.
Pinterest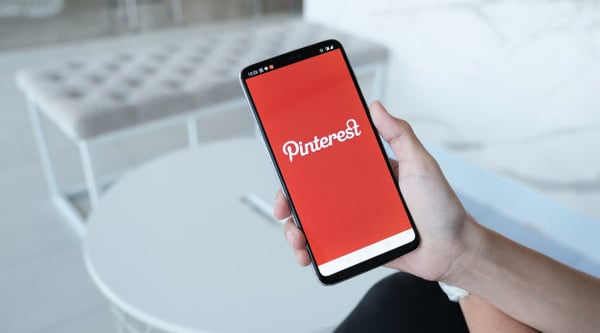 Pinterest has nearly 300 million monthly active users globally, of which 55% use it daily. Pinterest is different from Facebook and Instagram in several ways, but just as effective. Users browsing on Pinterest usually have a purchase intent behaviour that Facebook and Instagram don't make available to retailers. While some people are looking for something now, many are also creating visual mood boards and finding inspiration. Over 51% of users have found new brands that they have purchased this way.
Platform Highlights
You'll want to add Rich Pins and Buyable Pins to your products and blog content. Rich Pins add metadata from your products, recipes (if you have them), and articles from your site that people save to their Pinterest boards. Buyable pins are pulled from your business' website, featuring a product, it's title, its cost and whether or not it's in stock. This information will be updated automatically and does not require manual updates. Brands can use this feature to ensure that their online platform inventory stays relevant with accurate information.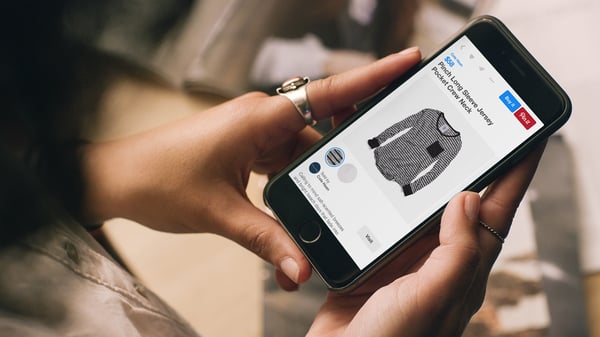 You can even test the waters of advertising on Pinterest. Pinterest offers simple advertising options like Promoting pins to get you started. We've previously written a Beginner's Guide to Pinterest and How to Further Leverage the Pinterest Platform blog that you can check out.
Conclusion
Growing your online and offline sales is an important part of growing your business. By streamlining your focus on channels that your current and future customers use, you'll start to see the fruits of your labor faster. In a world that's always on, it's okay to employ those retail smarts of yours and choose where your time and energy goes in order to build your business!
Get in touch with our eCommerce and digital marketing expert now if you need assistance in taking your first step in social media advertising!