Influencer marketing has significantly grown in the last decade. Brands/ agencies use instagram to market their product to their target audiences - but influencers make it on a more personal level. It is human nature to naturally trust someone you identify with and share similar interests with. So just from a sales perspective - targeting influencers that share the same target market as you, is a good way to gain loyal customers.
In this year, influencer marketing is said to significantly grow, increasing both demand and price. So wisely choosing influencers that are cost-effective is necessary. Apart from price, what are the other factors should you consider?
Choosing Between Micro-influencers And Mega-influencers
Not everyone has access to a million dollar budget. Small scale companies want to increase their exposure while not having to break bank. Contacting micro-influencers with 10,000 followers or more can be:
More accessible
Have a larger portion of organic followers to whom they actually engage with
Less expensive!
An influencer becomes a micro-influencer as soon as they hit the 10K follower mark. When this happens, a 'swipe up' function is enabled on their IG stories. Followers can swipe up and be redirected to your website. Not only does this drive more traffic to your site but you can also keep track of the sales you generate from this campaign.
Micro-Micro Influencers
People with a small following can be influential, too! Here is an example of Warby Parker; a company that started off in a college dorm room and now is one of biggest retailer in the eyewear industry. They feature real people with less than 1,000 followers on their Instagram channels and encourages them to post about their favourite frames. This establishes connection and makes others want to join in too! In this way, they humanise the brand and position their product as a lifestyle choice rather than just a product. By doing so, they have grown significantly in their social media presence.
(yes, dogs count as people too!)
What Is Influence, Really?
You want to choose
the influencers who really have an impact on your target audience, rather than a widespread influence over a generic, large following.
You can source thousands of influencers. But it will not be an impactful campaign unless you can find a strong connection between them and your buyers persona.
Analyse the psyche of your target audience - their motivation behind purchasing decisions, their goals and who they aspire to be. Once that is done, you can truly determine who is influential to your customer.
Several influencer tools can help you determine the interests of your influencers audience. This will tell you whether or not this influencer is a right fit for your brand.
Level of interest in each industry category (Source: www.hypeauditor.com)
Take a sustainable knitwear company we are working with as an example. Their brand mission is to provide upcycled, luxury knitwear that is affordable but also ethical to the planet. The buyers persona that was chosen for this brand was a Yogi who health-conscious but most importantly, eco-conscious of her purchasing decisions. This is the influencer they decided to collaborate with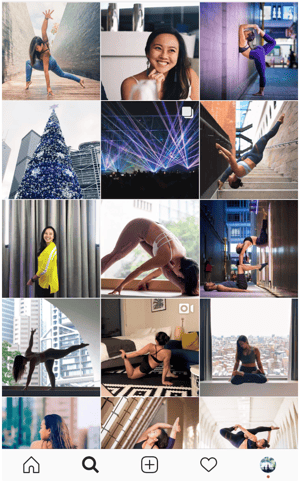 KOL: @jessleeyoga
As you can see from her grid, she has an account that is heavily focused on lifestyle and mindfulness.
Keep in mind that when talking about 'influence', features such as (a) the number of followers, (b) tagged posts or (c) a high engagement rate is definitely not the focus. Influence is mostly about context and the relevance.
Surely, your followers are intelligent enough to tell if your influencer truly supports your brand mission or if it is just a superficial post. It will be waste of your time and money if you do not choose an influencer that aligns with the theme of your brand.
Analyse your target audience and their context and then start focusing on your influencers. Source them accordingly.
Instagram Auditor - Audience Credibility Check
When sourcing your influencers, it is important to be mindful of fake followers. You want to choose an influencer that has genuine influence and has a long lasting impact on their audience. Here are things to watch out for -
The Audience Type
Demographics
Look at the percentage of real people, influencers, mass followers and fake followers. Mass followers are people who follow numerous accounts and therefore, are unlikely to see relevant content because of content overflow from other accounts. You definitely do not want to have an influencer with a high percentage of suspicious accounts, as their audience might not be authentic. The ideal influencer will have a large portion of real people.
You can use multiple instagram account scanners to find out such as Hypeauditor.
Where are your influencers' audience mainly based? Be mindful of this as a mismatch in geographical targeting can make your campaign unfocused
Once you have found the perfect group of influencers, you can dive a little deeper by purposing each one of them. Here is a customizable template to help you to so.
Get Stalking and Sourcing!