Inbound marketing can be used as a secret weapon in the heated and competitive e-commerce industry. Hubspot and Shopify integration helps onlines businesses to grow their e-commerce business using inbound marketing seamlessly.
Before we move to the practical how-to questions, let's take a step back to understand some basics.
What is Inbound Marketing?
Inbound marketing is the strategy and tactic by which you create meaningful interactions with your buyers at four stages: attract, engage, close, and delight.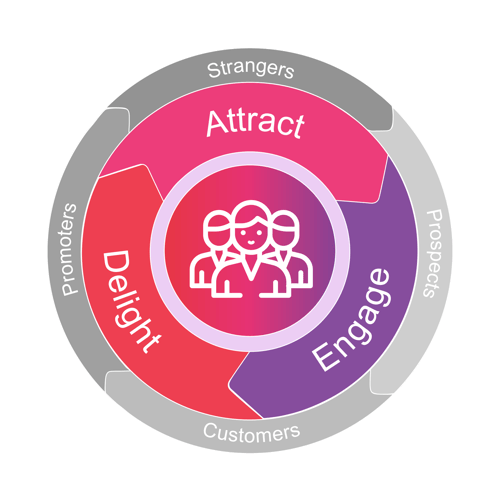 Inbound marketing flywheel: attract, engage and delight
Inbound marketing provides improved customer experience and attempts to build trust by offering potential customers the information they value via newsletters, blogs, social media platforms, and search engines.
e-Commerce User Journey
A typical e-commerce user journey is straightforward. During the different stages of the user journey, there are different tactics that you can leverage.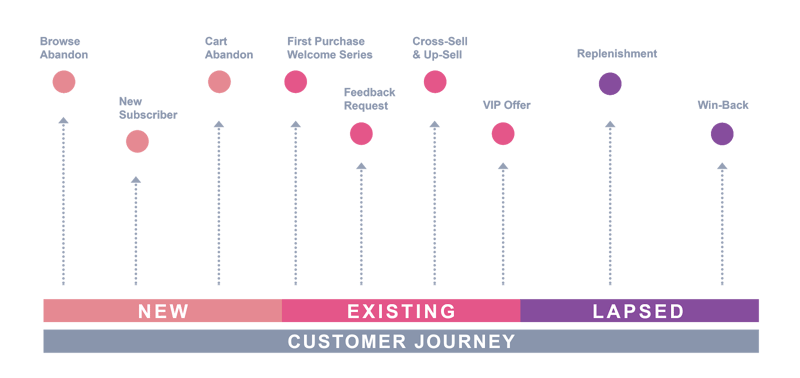 eCommerce User Journey
Seamless Hubspot + Shopify Integration
The integration between Hubspot and Shopify is basically seamless, just Hubspot and Shopify one click integration to connect your e-commerce store. You can sync Shopify customer's data to Hubspot. The integration works with all versions of HubSpot including the free CRM. By integrating to Hubspot CRM , it would enable you to build deeper relationships with your customers. Here is what to expect:
Sync & Segment
Connect HubSpot and Shopify to sync customers, products, and deals. The sync turns this data into powerful marketing signals in HubSpot.In the Hubspot dashboard, you can then get the pre-built basic e-commerce related analysis including:
e-commerce order snapshot, how much revenue abandoned, how much pending, how much fulfilled

Average order value (AOV) as well as the customer's lifetime value (LTV) by marketing channel

New customers during the selected period versus the previous same duration

e-commerce order snapshot, how much revenue abandoned, how much pending, how much fulfilled

Average order value (AOV) as well as the customer's lifetime value (LTV) by marketing channel
New customers during the selected period versus the previous same duration
More importantly, this integration enables a lot of pre-built segmented lists in HubSpot based on customers' e-commerce data and online shopping behaviour. We can then segment the customers by their order history, promotions or campaigns they've participated in. This allows you to target customers in more specific and effective way.
e-Commerce Inbound Marketing: The Data-Driven RFM Framework
Inbound marketing is the approach that empowers businesses to scale engagement with prospective, existing and old customers. It uses the Data-Driven RFM framework to allow you to identify the most valuable customers that can bring in the highest conversion rate. RFM is an acronym for:
Recency - How recently did the customer make a purchase?
Frequency - How often does the customer make a purchase?
Monetary - How much money does the customer spend?

e-Commerce critical factors: recency, frequency, monetary
Once you've integrated your e-commerce store to Hubspot, you can better use this framework. Hubspot CRM allows you to filter the database efficiently, considering the most recent purchase date (recency), the number of orders (frequency) and total revenue generated (monetary analysis). Using these three modules, you'll be able to identify customers who have recently bought from you, customers who buy more often from your website and customers who spend more money.
Monetary
There are a few tactics that you can use to increase monetary value. Making use of available Shopify apps, like Sumo, you can use the 'increase average order value' shortcut that provides multiple tiered discounts to turn your small orders into big ones. Bold Commerce provides a series of cross-selling and up-sell options that can be dynamically updated based on a shopper's previous choices.

Methods to increase the Monetary value for e-Commerce
Frequency
According to the 80/20 rule, 20% of your customers represent 80% of your revenue. These are usually the loyal ones who buy from you at full price, purchase more frequently and tell their friends about you. Always delight those customers and give them a reason to continue buying from you. There are a lot of apps that can make the flow easier. You can use Motivator to incentivize customers by sending gifts or coupons when they spend a certain amount. You can use Smile.io to strengthen connections with your VIP customers by offering them exclusive rewards and perks.
Recency
By making use of the powerful CRM of Hubspot, you can set up custom audiences for customers based on their purchase record, browsing history, campaign interactions, etc.
For a branded website, the cost of getting a new customer is very high and can sometimes be 10 times more expensive to win a new customer than it is to make an existing customer purchase again. You can set up an active segmentation with customers who haven't purchased anything in six months and create a win-back campaign to target them specifically.
This can be set up as an ongoing campaign, efficiently through automation so that the contacts can flow across the timeframes. Depending on your product type and industry, you can have a three-month list, a six-month list or a one year list. Sometimes just an email is all you need to win them back before you remove the contacts. For the sleeping customers that you cannot wake up, emailing them could have a negative impact on your email deliverability rates.
Conclusion
Inbound marketing is an effective strategy that you should leverage to grow your e-commerce business. You can set up Hubspot CRM, which is forever free to make your job easier. Talk to Virtue Media's inbound and e-commerce expert to help you to implement an inbound strategy that will boost your e-commerce performance:
Connect your data to sync your e-commerce store with Hubspot via native integration
Apply the RFM framework to effectively segment your customers and match your market to their buying behavior
Drive repeat purchases, increase average order value and generate new customers with Hubspot


If you want to learn more about how Hubspot can improve visibility and increase conversions of your e-commerce store, book a free website audit

. Our inbound marketing experts would connect with you and share with you the tips what can benefit your eCommerce store the most to boost your sales!