In this blog, we've summarized the most effective Google Ad extensions for local SMEs and eCommerce stores. We've provided the highlights for each extension and how to best maximise their functions. These include: Location extensions, Sitelink extensions, and more...

What are Google Ad Extensions?
Ad Extensions are an ad's best friend, as they are extremely helpful to improve the performance of your Google Ad campaigns. If you are yet to set up your campaign, we have a Step-by-Step Guide on setting up your first successful Google Ads Campaign.
If you've never come across extensions before, they are essentially extracts of additional information that you can add to your campaigns to make them more impactful. There are a variety of ad extension types, and each one offers distinctive advantages such as extra information or clickable CTAs that further optimise the performance of your ad campaigns.
In addition, they don't cost anything extra, and they won't have any negative impact on your campaigns. Alternatively, ad extensions can actually increase your quality score (meaning your ad rank) which are extremely helpful for SMEs to pull more traffic and conversions.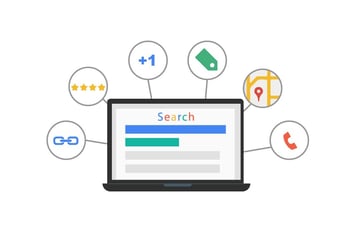 Below are some examples of Google Ad Extensions that you can implement for your Google Ads. The better unitization of Ad extensions improves click-through rate (CTR), and thus benefits your Ad campaign quality score, this means it will lower your Ad spending, simultaneously improving your Ad performance. Whether you're just starting out on your local business' digital transformation, or just looking for more ways to boost your ad's performance, the examples below can help!
8 Most Effective Google Ad Extensions for Local eCommerce Businesses
1. Location and Call Extensions
Location extensions are essential especially if you have offline stores or a showroom. It connects the online search intention with your offline foot traffic.
Location extensions allow you to incorporate your business phone number, business hours and address into your ad so that searchers can utilise Google Maps to find you easily. This is helpful for SMEs as it would show the legitimacy of your business so that customers are more likely to trust you and your company. The setup is quite straightforward, you can link your Google My Business (GMB) account to your Google Ads, thus the business locations can be shown as location extensions in Google Ads search results.

Call extensions are most popular and suitable for businesses that have the capacity to handle an influx of calls from customers who need reservations, appointments, consultations, or even any types of queries. The extension allows you to incorporate your phone number in your text ads, to make it much simpler for customers to contact you directly. They feature your business' phone number at the top of the ad, next to the site URL.
Another helpful feature of this extension is that when users are searching on mobile, the number is clickable, and just with two taps, potential customers will be calling your office.
This is helpful for businesses who want to encourage searchers to call your business, especially if this is the main way your business generates leads or sales. It is also important to note that convenience is a huge asset when people are in a hurry, and those who are searching on mobile typically are.
2. Sitelink Extension
Sitelink extensions allow you to add short snippets of information that essentially act as CTAs. They allow you to promote additional landing pages below your standard text. Once clicked on, users will be taken to key pages of the business' site.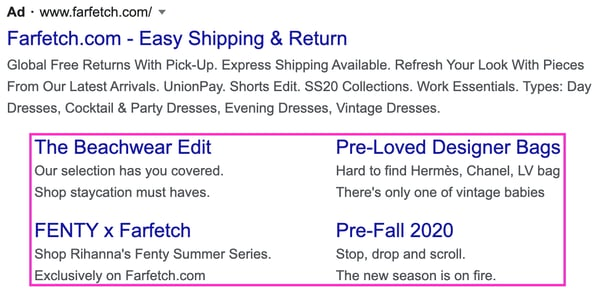 The ad will feature links that lead to key pages which you prefer to showcase and allow users to quickly and easily get to on your website. This could be your blog page, menu, reviews, pricing page, and so on showing users information that they're most likely looking for when making a purchasing decision. You can also use site links to highlight what makes your brand different. Having site link extensions helps your ad stand out against your competition.
3. Callout Extension
Callout extensions give advertisers the chance to showcase relevant offers and promotions within their ad text to drive searchers to click on their ads. They aren't clickable, but further influences the customers with an extra incentive to visit your Ad campaign landing page.

4. Structured Snippet Extension
A structured snippet extension allows you to give a snapshot of your products and services to potential customers even before they click on your ad.

The purpose of this extension is to explain to customers the kind and types of products, styles or services that your brand offers. This is helpful to searchers as this will allow them to know who you are and what you offer before they even visit your website.
Not only are structured snippets more noticeable, but the additional information provided under each link will increase the chances of relevant clicks. It is essential to highlight what makes your brand different and the value each page has.
5. Price Extension
Price extensions allow you to showcase some of your promotions, deals, offers, and services in your ad, featuring pricing and qualifying information. They are shown as carousel/swipe-able cards at the bottom of your ad.
By offering highly relevant information upfront, is a great opportunity to make your ad even more competitive. Price is always a huge factor that greatly influences a customer's purchasing decision. Having the price upfront and readily available can increase clicks if you're within the range the searcher is looking for, and get them to choose your ad instead of a competitors'.

Even better, as Google Ads runs by a PPC (Pay Per Click) model, the extension helps you prevent paying the cost of clicks with no chance of conversions. Price extensions work better when you want to feature a few key products or services in particular.
6. Promotion Extension
Holiday seasons or sale periods give the perfect chance to utilise promotion extensions. You'll want to mention the discount in the headline, this way you can ensure that your messages come across to searchers loud and clear. Promotion extensions are perfect for highlighting any additional sales, deals, discounts apart from the main ad, without having to worry about the headline or description character limits from your main ad.
Setting up a promotion extension only requires you to choose an occasion and the qualifying dates for your extension to run. Afterward, you'd have to choose the promotion type, whether this is monetary, percent discount, or others. You may even add an optional promotion code or "on orders over"-condition, and promotion display dates.

Promotion extensions are perfect for eCommerce brands, there is also a scheduling setting to prepare your promotion extension in advance to prevent last-minute panic.
7. Seller Rating Extension
You may have seen seller rating extensions before, they are the five yellow-and-grey stars you see in a search ad. They allow your ad to stand out from your competitors as it shows that your store is trustworthy even before they click into your ad.

However, to be eligible for this extension, you should have a website with a checkout flow including an order confirmation page, and ensure that you check all of Google's Customer Reviews policies. You should also have at least 100 verified and unique reviews per country with an average rating of 3.5 stars or higher recorded in the past 12 months. Your seller ratings will be shown in your Google search ad in that particular country.
Seller Rating extensions offer quite a few advantages. They prove to searchers that your brand offers high-quality products, they can also increase CTRs and lower CPCs, they also attract more qualified leads.
8. Image Extension
Image extension is a powerful ad extension that is available globally now!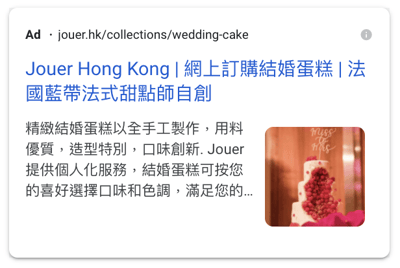 As shown in the above example from
Jouer
, the image extension will show up as a small photo next to your search ad, visually representing your brand and product. In our experience with the image extension, we've observed a 2x bump in click-through rates (CTR). It is expected that the new extension can drive performance for advertisers, as shoppers are able to easily see your products to consider and take action in much less time.
The higher CTR would benefit your quality score as well, which might eventually lower the cost of a click to make your Google Ads more cost-efficient.
Conclusion
Google Ad extensions are a win-win for your business and it would be a shame not to utilise its functions. It doesn't incur any extra costs and will definitely improve your campaigns when implemented correctly. Make sure to check out our previous two blogs -a step-by-step guide on setting up your first Google Ad Campaign, and further steps to take to optimize your Google Ad campaign if you haven't yet. Get in touch with our eCommerce and digital marketing expert now if you need assistance in implementing Google Ad Extensions!