A buyer persona encompasses the key characteristics of your targeted audience and is an essential element of marketing, no matter the size or scope of your business. In this blog we include a detailed guide to build your persona and easy to use templates to optimize your marketing strategy.
What is a Buyer Persona?
A buyer persona is a fictional character developed to characterise the key traits of a particular group of your target audience. Buyer personas provide the context for marketers to make exceptional content whilst generating high-quality leads. It is an essential and foundational element of marketing, no matter the size or scope of your business.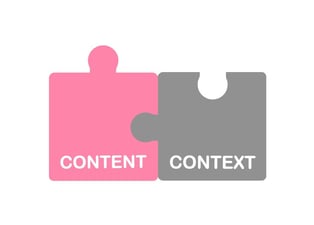 Only when you know your buyer persona that allows you to identify your target audience, you can then properly position your campaigns and marketing strategies. Having a buyer persona is important as it makes sure that you're marketing to somebody and not just anybody. This helps you to avoid wasting investments, budget and effort, while dictating precision for your direction and priorities when planning your marketing strategy.
Persona is Critical for Marketing Strategies
For B2B marketing, it usually takes more time for prospects to make their purchasing decision as the evaluation is more complex compared to B2C. Therefore it is essential for B2B marketers to develop a buyer persona in order to better understand how and when different personas interact with you along the decision journey, ensuring that your marketing efforts are focused, targeted and personalised.
How to build your buyer persona
1. What should be included in the persona?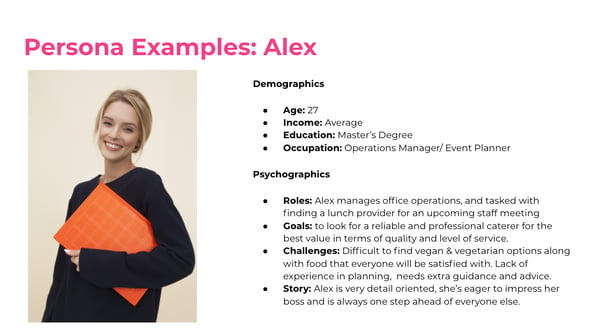 A persona should include both the demographic and psychographic information. Here's a list of questions you'll need to learn about your target audience:
Demographic
What is your age?
What is your gender?
Salary or combined household income?
Location (urban, suburban or rural)?
Level of education?
Family size?


Role
What is your job role/role in life? Or job title?
How is your job/role measured?
What is a typical day?
What skills are required?
What knowledge and tools do you use?
Who do you report to? Who reports to you?
Company/Organization Details
Which industry or organizations do you work for/is your role in?
What is the size of your company/organization (revenue, employees)?
What kind of product and services do you provide to customers?
Organization challenges?
Pain Points
What are your biggest challenges?
What are your secondary challenges?
Watering Holes
How do you learn about new information for your job?
What publications or blogs do you read?
What associations and social networks do you belong to?
Goals and Motivations
What are you responsible for?
What does it mean to be successful in your role?


Shopping Preferences
How do you prefer to interact with vendors? (email, phone, in person)
Do you use the internet to research vendors or products? If yes, how do you search for information?


2. Where and how you can collect the information
Interview internal stakeholders
You could gather input from your sales, marketing and service teams, who interact with the customers most for information about your customers and prospects. Afterwards, try to make any generalizations about their preferences, habits or interests.
Website analytics
Another way to find answers is to utilise lead capture forms to collect information from your prospects. For example, job title, company size, industry and location can be very easily obtained from using lead capture forms. You can also analyse your website analytics to uncover trends in the way your existing customers consume content, and interact with the website.
Customer/Prospect Interview
Of course, the most direct way to get answers is to interview your customers and prospects, this could be in person or over a phone call. Remember that you shouldn't just talk to those who've had positive experiences using your solutions, you should also talk to those who've had poor experiences in order for you to uncover challenges and issues that your products could not solve.
Asking for feedback not only makes prospects feel more valued, but leveraging feedback allows you to understand them better, know and articulate their needs better and improve your offerings.


Market / Industry Analysis
Market analysis is another crucial action to take when it comes to research on your target audience. You should observe how your audience potentially interacts with your competition. Furthermore, whether your competitors are exploring a demographic you should also be investigating. Social media should not be overlooked, you can find the type of marketing strategies or campaigns your competitors are posting on social media to draw their target audience.
There are a lot of valuable resources and templates you can find online to make this process easier:
Our own Virtue Media template will help you with the foundations elements of your persona, especially if you're building one from scratch. We include a step-by-step guide to filling in the Who, What, Why and How about your buyer persona.
Hubspot's free Make My Persona tool will help you create well-defined and fully-fleshed out personas. Hubspot's persona generator is a step-by-step wizard that will walk you through the process of creating a useful client, customer or user persona for your business. A unique touch that they've added is that you can assign photos to your personas as well as names.
3. Keep Your Persona Fresh and Lively
Persona shouldn't be a one time thing, it's important to keep a reviewing schedule. In some cases, you might find that the business evolves, but your marketing messages and techniques haven't been updated to meet the new changes.
Thus the work of creating personas is never finished. Whether this be from 4 months to 6 months, new competitors would have entered the market, and new communication channels would have been developed too. Therefore it is crucial to keep ahead of the curve and grow from there.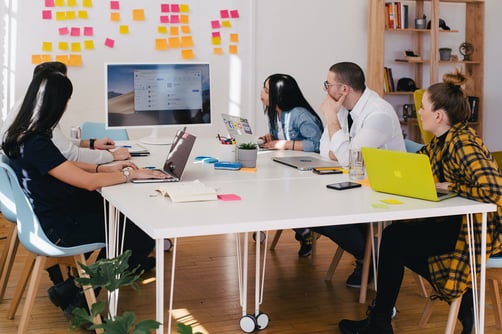 Negative Personas
Oftentimes buyer personas can help businesses understand their audience better and reduce expensive interactions, but supporting your strategy with negative personas is equally as essential. Negative personas are the exact opposite of a buyer personas. Negative personas can help businesses save time and money by identifying the people whom you don't want to market to and sell to.
Negative personas identify which types of prospects will end up draining your resources giving reason for your business to cut ties with these negative prospects. Successfully finding the best personas will take eliminating the negative ones, this will result in a lower cost per lead and cost per customer, and instead higher sales productivity.
The Next Step - Buyer Journey
Often people mistake that a buyer persona and the buyer journey is interchangeable, however this is not the case. The buyer journey is the active research process a buyer goes through leading up to a purchase decision. The next step to securing your leads into returning customers is to identify opportunities along their journey and really understanding your customer's concerns and motivations.
Your buyer journey has at least 3 stages:
Awareness: The buyer is figuring out that they have a problem or a need but hasn't really defined it yet.
Consideration: The buyer clearly understands their problem and is researching solutions.
Decision: The buyer has decided on a solution and is ready to make a purchase.
Developing personas, understanding their buyer journeys, and then you can map the content to the different stages of the journeys all contribute to content marketing success. This way, you can form informed decisions and start precise strategic planning to convert more customers based on their buyer journey.
The more you understand your customers, the better your reach to them. If you are interested in learning more about building a buyer persona for your business, get in touch with our digital marketing expert now!