Inbound marketing is a customer-centered marketing strategy that provides solutions to your potential clients addressing their needs. A successful inbound marketing campaign is designed around one goal, across a variety of connected channels.
No matter you are planning the marketing strategy as a whole or developing a marketing campaign to achieve a particular goal, this guide provides you the steps which would help you to take a campaign from ideas to launch, to allow you to see results sooner.
1. What Is Inbound Marketing Campaign?
Inbound marketing campaigns are the integrated effort of all the marketing channels that you are working on with a single goal / marketing message. A successful inbound marketing campaign should start with the customer in mind. It should be designed to meet the needs of the prospect at every stage of their buyer's journey.
When done successfully, inbound marketing converts leads into customers, and you enjoy growth in your business. Check out the blog post A Beginner's Guide to Inbound Marketing to get more ideas.
In fact, any campaign can be an inbound campaign. You can apply the inbound marketing campaign framework to organize your campaign, no matter if you are planning a product launch, newsletter, online event or etc.
To plan the Inbound Marketing Campaign, you need to have two basics:
Define the marketing offer, something valuable and relevant for your target audience
Nurture the leads from the offer and move them along your marketing funnel so they can become your customers.
2. Campaign Ideas Brainstorming
You must be familiar with brainstorming meetings, which a lot of time it is hard to be managed with high productivity and effectivity. In order to organize a great brainstorming session, you can consider the following tips:
Invite people from teams to your brainstorms: This would give you a great mix of new perspectives, which helps you to land on the ideas that are original and executable.
Get prepared prior to the brainstorm: Preparing the brief to provide everyone the background and goal, as well as the relevant information in advance to the brainstorm. If necessary, even assign homework to collect ideas prior to the meeting, this makes sure everyone is prepared with some independent ideas from their unique angle.
Assign someone the power to say 'No' to the idea(s): Don't be afraid to say "no" to the bad ideas. As if you're giving every idea equal time and regardless of merits, then you end up down a bad idea rabbit hole. Assign someone probably the project manager with the trump card to say no if the idea is not executable or bad.
3. Define Your Campaign Target Persona
A buyer persona is a semi-fictional representation of your ideal customer based on market research and real data of your existing customers. A good persona profile should include the customer demographics, behavior patterns, motivations, and goals. A detailed buyer persona will help you determine where to focus your effort.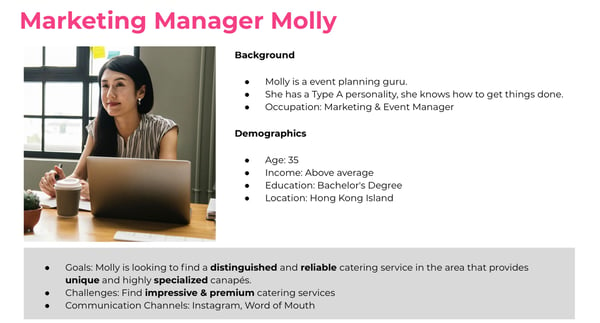 Example of Persona: for a catering company
To create marketing personas for your campaign, you can use some questionnaire to guide you to determine your persona's role, goals, challenges, company, and more.
Try to answer all of the questions here and then come up with some of your own.
Questions about your persona's background
Personal demographic
Educational background
Career path
Questions about your persona's company and role
Industry, size of the company, revenue
Job role and job title, KPI
Reporting time and team structure
Tools and knowledge needed in the job
Questions about your persona's challenges and Goals
Biggest challenges of the role
Real quote from persona's daily life refer to those challenges
Primary and secondary goal at the work
Questions about your persona's communication channel and marketing preference
Source to learn new information for the job
Interested social media group and brands
Online search behavior, how they find information
There are a lot Persona Template from Hubspot that you can use to organize the information about your persona to guide your work.

4. Set Smart Goal for Your Inbound Marketing Campaign
As an inbound marketers, we all know what SMART (Specific, Measurable, Attainable, Relevant and Time-bound) goals are, but the real question is how to implement this acronym in practice?
Before Start: Set the benchmark
To set up an attainable goal, where you are going to, firstly you need to know where you are now. Knowing this information is to set the benchmark for you to determining next steps. Typical question you can ask are:
What's the website's current traffic, and by different channel inorganic, referral, etc.?
How many inbound leads do I attract per month?
How many sales have we closed?
Setting a good SMART goal is a critical start of your inbound marketing campaign planning, from the blog 6 SMART Goal Examples you could find some references for your own campaign.
5. Create an Attractive Offer
Use a quality offers is the key to generating quality leads. For B2B inbound marketing, there are typical offers like: ebooks, webinars, tool kits, industry case studies, free trials, product demos, consultations and more.
You need to make sure the offer you create targets to the right person at the right time. A typical buying cycle has 3 stages: awareness, evaluation and purchase.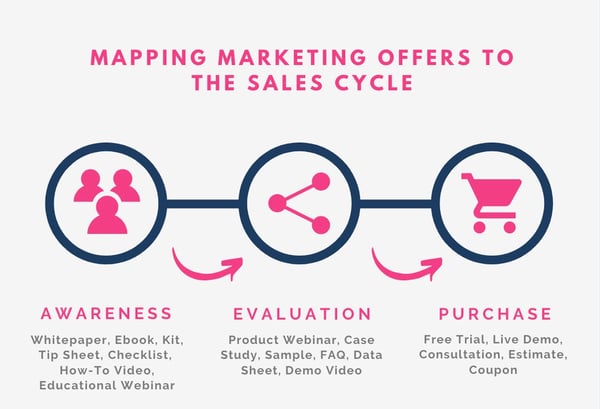 Marketing Offers by Sales Cycle
Awareness stage, a buyer is trying to get an answer. They're looking for top-level educational content for a solution, like blog posts. The lead quality of this stage is comparatively low. While those who find your content offer insightful would be more likely to go to the next stage of the funnel.
Evaluation stage, the buyer is trying to compare and discover the best solution. You need to show your service or product would address their problems in particular. Use this stage to extend customer engagement by building a relationship, and establishing trust.
Purchase stage, it is the bottom of the funnel where the actual purchase decision happens. A compelling call-to-action would encourage them to make a purchase decision. The right offer and content at this stage can have a dramatic impact to convert.
6. Lead Generation Path
A typical lead generation path includes content offer, call-to-action (CTA), landing page, and thank you page. A potential buyer sees the content offer like an eBook on the topics that he is interested, he clicks on the call-to-action button to request the content. On that landing page, he has to provide the information, and upon submission, a thank-you page would be followed with the offer.
Call to Action (CTA): A straightforward and also attractive CTA is the first step. Using actionable verbs like "discover", "unearth", "find", "download" to make it direct and clear. The copy should also be consistent with the ones on the landing page.

Call to Action (CTA) Example
Landing Page: An effective landing page should be action-oriented and convincing.
Limited Navigation to have the user stay focused on filling the form
Convincing content like some client quote, testimonial
Optimized form using A/B test would be helpful to find the best form
Thank You Page and Follow up Email:

A thank-you page is designed to deliver the offer and more importantly, to

encourage more engagement

with your business. On this page, besides the offer confirmation, don't miss the opportunity to introduce some other offer to encourage the lead to move align the funnel. A follow email can be achieved by automation and it should be set as sending from your sales representative and with personalisation. It would make it more natural to introduce a

secondary call-to-action

that will move the leads further along in the sales cycle, such as a free consultation, a product demo and etc.
7. Promote the Campaign
Launching the campaign should be integrated with all the channels with the consistent message.
Your website: Create a CTA on your homepage, your high traffic page, either homepage key visual banner or a pop up screen. Also leverage related pages within your site to embed the CTA.
Your blog: Each time you blog, you give Google and other search engines the opportunity to find you. Each blog post gives you the opportunity to rank for more keywords and grow your reach. Write blog content related to your campaign, targeting the high-traffic keywords, this would help you to attract organic visitors.
Organic search: Optimizing your campaign web pages for the keywords you want to rank for. Avoid keyword stuffing, but make sure your page title, description, the images alternative text, and URL follow these rules for search engine optimization.


More importantly, make your landing page as the pillar page of your content cluster. You can have any amount of cluster content hyperlinked to the pillar content. All of the cluster content points back to the pillar.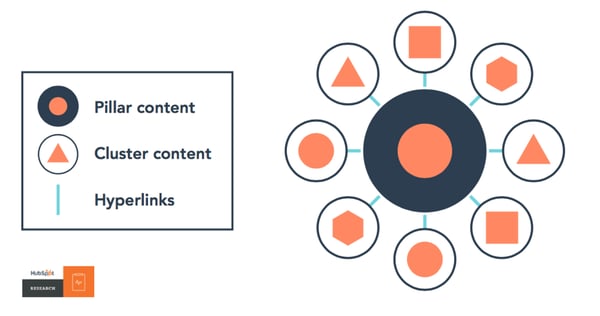 The architecture of topic clusters makes it easy for you to organize your website's content in a way that humans and search engines understand. Since all of the content relates to a single topic, you can keep all of your pages orderly.
For educational content, you can make good use of Google featured snippet, which shows usually when a question-based query is being searched for. The snippet displays content from within one of the pages ranking on page one that directly answers the question searched for on the search result page.
Email Marketing: Communicate to your own database about the campaign offer. Encourage them to further share with their friends and colleagues,
Paid Channels
LinkedIn Sponsored Content. To reach the quality prospects in your target B2B market.
Facebook Ads. Make use of Facebook's Lookalike Audiences to promote content people similar to your followers.
Google Search Ads. Bidding for the keywords related to your campaign, reach those targeted prospects based on their search intention.
Google Display Ads. Make sure of the retargeting display Ad to reach to those who visited your website before, who are likely to be interested in your campaign offer.
8. Measure the Campaign Results
After the campaign, you must analyze your efforts. Which channel brings you the most quality traffic? Were the leads you received qualified? Any insights from this campaign you can learn from so that you can improve your next campaign?
The analytics data helps you understand almost anything you would want to know about your traffic's behavior. In fact, there are actually hundreds of the data which would be a bit overwhelming. Some basic metrics are you can start with:
# of Visits - the number of times users have reached the campaign site
Conversion rate of visits-to-contacts.
New leads. How many new leads have you attracted during the campaign period across all channels
Marketing qualified leads. These leads are likely to become future customers based on criteria such as company size, their job title and their assumption of the campaign content
Sales qualified leads. These leads are interested in talking to someone from your sales department.
Opportunities. This is the number of leads that engage with the sales team and move down the sales funnel. There is a good chance they will become new customers.
Customers. The number of new paying customers
There are different strategies for the inbound marketing campaign performance. Inbound marketing is a customized initiative, which is not the same as anyone else's. While first thing is start measuring instead of guessing. It needs to be fine-tuned from time to time to come up with your best approach to measure.
Summary
This guidebook is aimed to give you a framework for your inbound campaign, which you can adapt to build your own campaign using the above shared steps no matter it is an event registration, a product / service launch. It is a learning curve. So for each inbound marketing campaign, always review and apply the learning to your next campaign to make it even better.