The average human attention span is shorter than ever, with social applications like TikTok, YouTube Shorts, and Instagram Reels now trending up. As a result, short-form videos would continue to be one of the most in-demand marketing tools in 2023. According to a DemandGen research, 86% of purchasers now actually choose interactive, visual information that is available on demand.
76% of consumers and 85% of millennials (defined as people aged 18-34), say they've purchased a product or service after watching a video as per Brightcove's Video Marketing survey in the United States.
Video ranked higher than display ads at 13%, email marketing at 9%, case studies at 4% and text ads at 2%.
Finally, investment in the production of digital videos totaled $151.4 billion in 2021 according to a Businesswire report.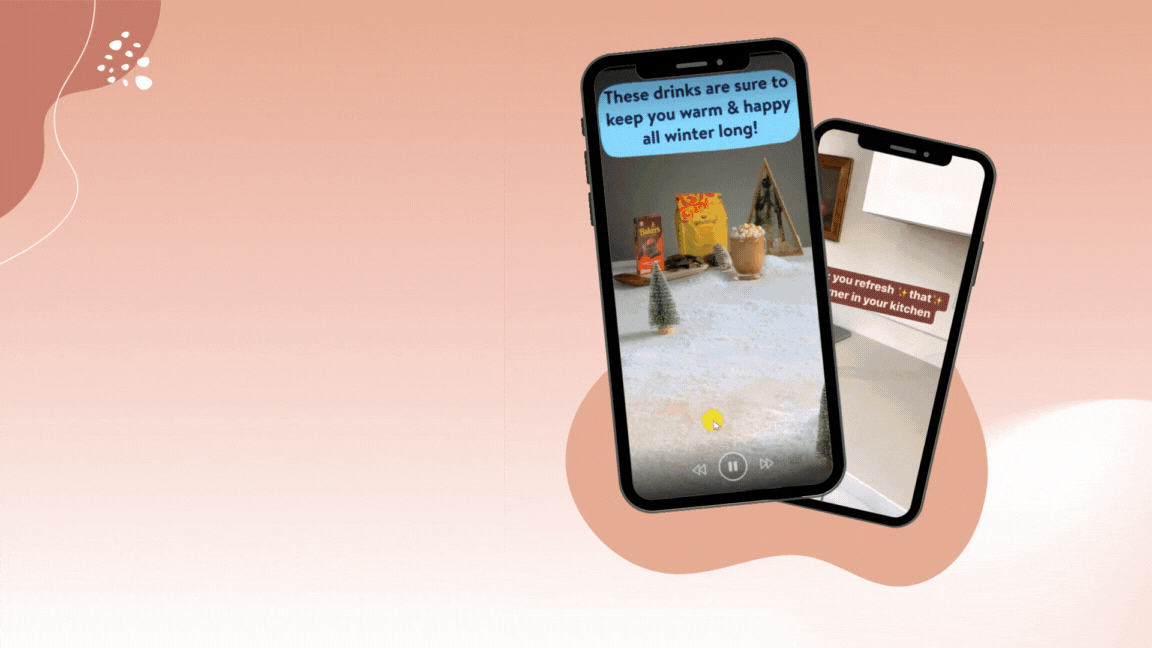 Shoppable video is one of the formats of "shoptainment" that you should definitely use in your digital commerce strategy. It could be added to your website dynamically in order to increase conversions. The fundamental idea behind shoppable videos is to meet the viewer's quick purchasing needs by fully incorporating stories and products into the buying and storytelling processes, eliminating the barrier between marketing and commerce.
Here are some ideas for you to leverage shoppable videos effectively in order to drive customer engagement and turn one-on-one conversations into conversions:
1. Use shoppable videos to streamline sales funnels and drive conversion rates.
2. Boost customer engagement with short, interactive videos.
3. Make use of user-generated content to multiply your marketing results from the KOL campaigns!
4. Incorporate personalized shopping experiences by targeting campaigns to the right audience.
5. Gain valuable performance insights from shoppable videos.
1. Use shoppable videos to streamline sales funnels and drive conversion rates.
Shoppable video is a powerful way to enhance the user experience as they streamline the sales funnel and simplify the shopping experience. Content becomes instantly shoppable (and more attractive!) with shoppable videos. Without swamping across different platforms, consumers could easily add the product to their shopping basket, and continue viewing the video. This streamlined conversion funnel shortens the customer decision journey and is likely to result in more sales for your company.


For example, LSKD sportswear uses different video formats for a more in-depth buying experience, from showcasing their products and brand, to customer reviews and product demonstrations. You can embed the short videos onto each individual product page of your e-commerce site (like Shopify) for a whole new customer shopping experience.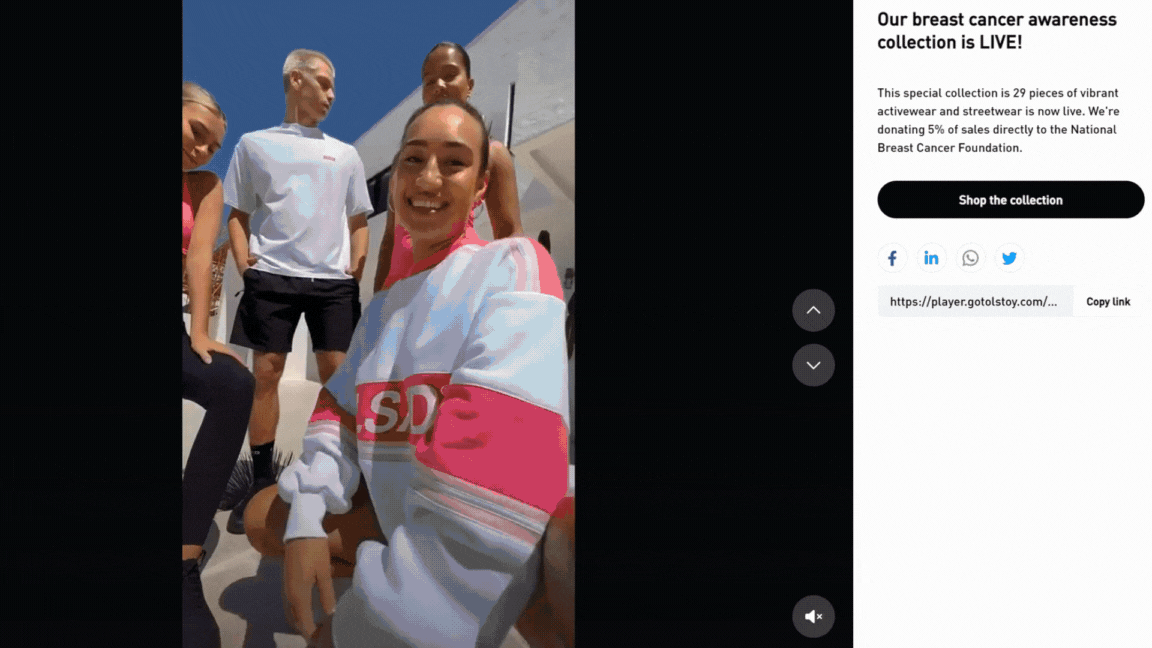 With shoppable videos, viewers can add a product to their cart with a single click, increasing their likelihood of conversion. Just like how Puma introduced the world's first "shop as you watch" video, you can improve your results through increase in conversion rates, and earnings per click at 24 times higher than the e-commerce industry standard.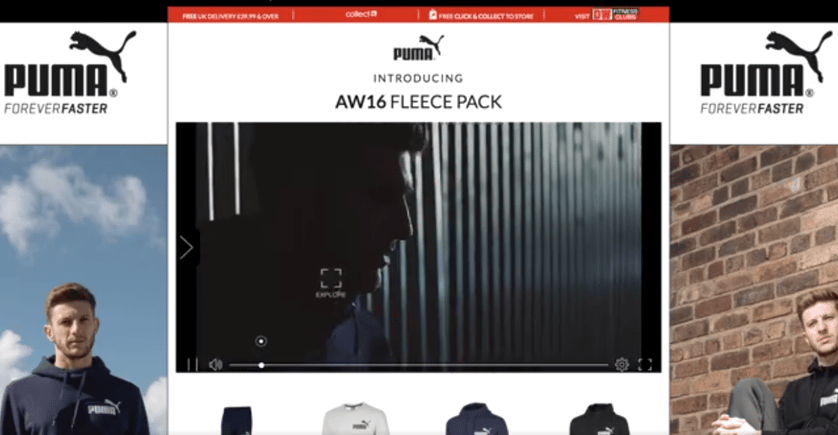 There's no need to use Google, navigate your website, or seek for a link in the video description. This shortened customer journey aids in preventing viewers from losing interest before making a purchase. As a result, studies have shown that shoppable movies may boost conversion rates by 30%!


Marketers have discovered that video advertisements are more engaging than static ads across practically all platforms. Viewers are 27.4 times more likely than ordinary peers to click through internet video adverts. Tags on those interactive product links will also increase interaction with shoppable videos. Furthermore, details such as tailoring discounts and coupon incentives to your targeted customers will increase chances of them clicking on the call-to-action buttons, as people are attracted to loss aversion principle.

Pandora uses quiz functionality to help the viewer decide what gift they should buy – AND follows this up with the ability to buy it, overall giving an additional degree of involvement. Take the quiz here!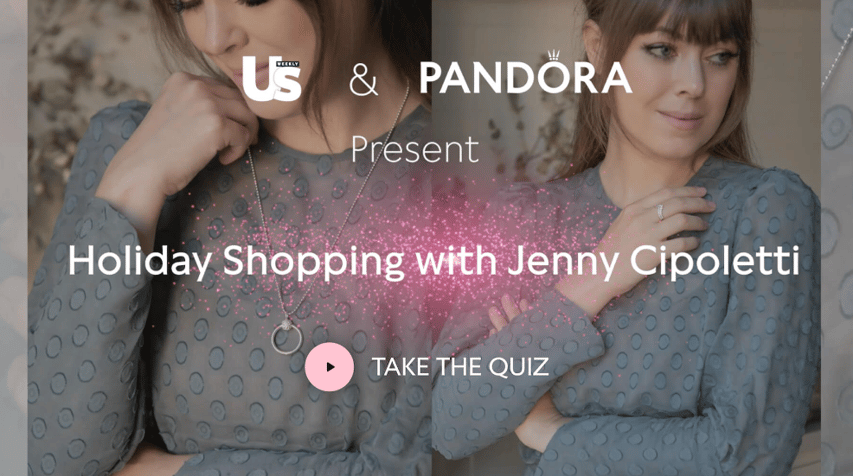 3. Make use of user-generated content to multiply your marketing results from the KOL campaigns!
Your online store's customer experience has an influence on every aspect, from conversions and reviews, to repeat purchases and word-of-mouth referrals. Providing the greatest possible experience for your clients is critical to any e-commerce marketing plan. Shoppable videos are the perfect method to create the most fun and convenient brand experiences.

For example, user-generated content (from customers or even influencers) such as tips, reviews and unboxing videos are widely used on social media platforms like Instagram and TikTok nowadays. These short videos can overall be maximized to become the main attraction point on the product pages of your e-commerce site, as it increases authenticity, is more convincing and creates more potential direct conversions.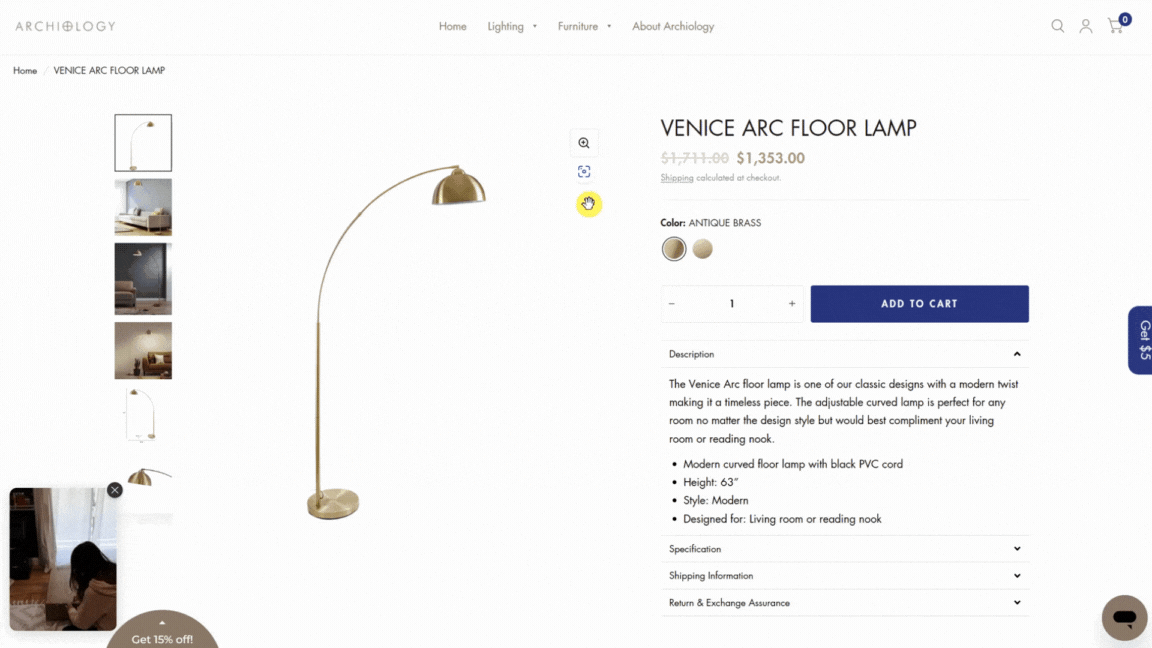 4. Incorporate personalized shopping experiences by targeting campaigns to the right audience.
A personalized shopping experience will greatly improve your site's attraction. Because every buyer is unique, targeting is essential in every marketing strategy. By tailoring the videos to certain audiences, you will notice higher results in conversion rates.

For example, these short videos can act like a personal shopping assistant with content tailored to the viewer's device, location and browsing behavior. Through targeting, the personalized content that is shown will prompt viewers to engage with the videos through call-to-action buttons, further increasing engagement and driving sales.
5. Gain valuable performance insights from shoppable videos.
Traditionally, it was impossible to assess how your video content and campaigns affect sales in real time. However, most systems that offer shoppable videos now also collect critical real-time performance data. This data can be used to locate new consumers and engage them with highly targeted offers and communications, allowing you to optimize your shoppable videos and guarantee they genuinely benefit your brand's bottom line.

Platforms such as Tolstoy, Amazon Live, Vimeo, and many more are now able to track your ROI and data insights for all your shoppable video needs.
Our Final Thoughts on Shoppable Videos
All in all, customers are looking for more interactive and interesting content from their favorite companies. While brands strive to eliminate the friction between marketing and purchasing, shoppable videos can achieve this in the long run by helping in the creation of an emotional bond between the client and the products of a brand.

Virtue Media is an expert and leader in digital marketing, with rich experience in helping clients to improve their sales and ROI. With the latest trends in marketing, they are also leading in leveraging shoppable videos with a partnership with Tolstoy. So, now is the best time to make shoppable videos the centerpiece of your marketing strategy! Click here to find out more from Virtue Media.