The line between online and offline has been becoming a blur. As an SMB owner, your challenges are probably sourcing the best software and solutions at a reasonable price to support you sell both online and offline. Finding the right tools and providing good customer experience are critical to make your business stand out of the competition.
The line between online and offline is getting blur
E-commerce and offline stores are treated as separate channels running in different platforms. It can be sometimes very tedious for business owners to have a holistic view of how business is doing through online and offline stores.
However, the line between online and offline has been becoming a blur. Consumers in different stages of the buying journey constantly checking online and offline simultaneously thanks to mobile technologies. Consumers are always exposed to social media and online advertising on their mobile devices all the time. So for merchants, it's all about enabling the shoppers to get the products whenever, wherever they want.
Showrooming and Webrooming
Showrooming and Webrooming are new types of shopping behaviors.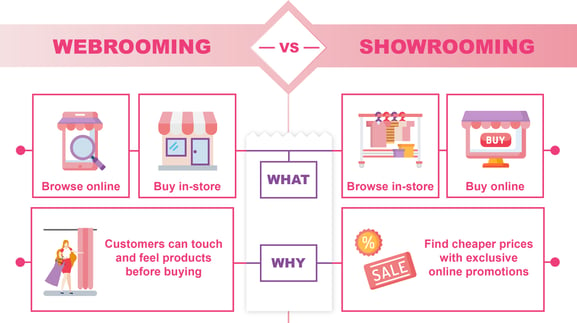 Showrooming, meaning customers visit a store to check out what they want, then go online to find out more info and buy the product via eCommerce; or webrooming, meaning customers read every available online source and ask all their friends before heading to a store to make a purchase.
In Hong Kong, SMB retails cannot afford to open a lot of branches, as the rent is extremely high. Webrooming is a more cost-effective approach to drive awareness and business. Since transportation in Hong Kong is so convenient, a lot of customers don't mind traveling all the way to the store. According to Merchant Warehouse Report, consumers somehow prefer webrooming because:
23% don't want to wait for the product to be delivered
46% prefer to go to a store to touch and feel a product before they purchase
47% don't want to pay for shipping
Click and Collect!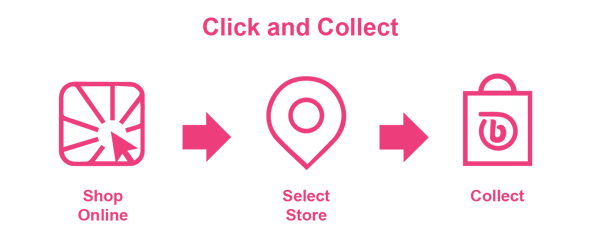 What can retail take advantage of this webrooming behavior? The answer is Click and Collect(or commonly understood as 'store pickup') is one of the tactics to bridge the online and offline, leveraging the 'webrooming' model.
Consumers can browse online in the comfort of their own home or using mobile on the way, and then travel to the store at the scheduled time according to their convenience.
This means:
increased foot traffic to your offline store
additional impulse purchases the shopper might make at the time of pick-up
great opportunity for upselling or cross-sell to promote the new and existing products.
Click and Collect offers hassle-free returns. If customers are not happy with their order, they can simply return or exchange at the spot quickly and effectively. This also saves the admin and handling effort to process the returns.
How to Achieve That?
Click and Collect service requires great coordination between store staff and back offices. For service allowing customers to choose specific stores on specific timelines to pick up, multiple checkpoints must be set to make sure the process is flawless and customers are satisfied. To enable the smooth execution of 'Click and Collect', more seamless and integrated management between online and offline channels is required.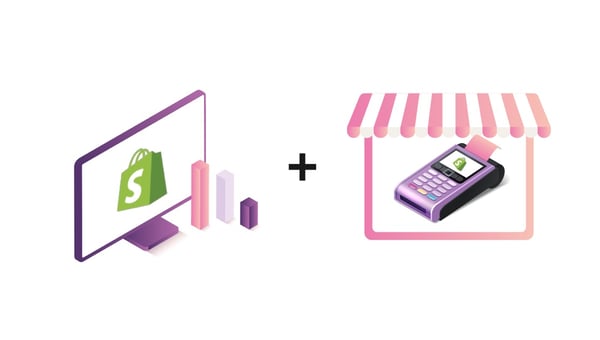 For SMBs, it is not realistic to customize the integration between eShop and offline POS system. I would suggest running the retail and online businesses on the same platform if possible. The benefits are:
You can be informed real-time which products are performing best in-store and online for better product planning
Your customers can enjoy the more seamless multi-channel experiences, they can start a sale through one channel and complete it using another
Inventory and stock tracking would be managed in one place for online and offline stores to avoid oversell and missing sales opportunities
Customer profiles can be synchronized to provide a holistic view of your customers and important data like their habits, contact information, order history and etc.
Shopify POS - Unifying the online and offline retail
With Shopify POS you can manage every aspect of the business — from products to orders to customers — selling online, in retail stores, and on the go.
Best fit for SMBs
Shopify's affordable price is more appealing to smaller retailers. The POS function is free for all Shopify plans, meaning if you are running your eShop on Shopify, you can use it without any additional charge! We have worked with a few traditional retail clients, and helped them migrate to Shopify POS. The intuitive and user-friendly interface makes the transition and training very easy.
Though Shopify in recent years is trying to grow its enterprise business sector, fairly speaking, larger businesses may still find it lacking some advanced features. For SMBs, if you don't require extremely robust inventory management, it's more than enough.
While, one point worth mentioning, in Hong Kong, we cannot really enjoy the full package of Shopify POS, as the retail kit (hardware) is not available here. That means you would need to get a payment terminal (credit card processing machine) to process the payment through cards. On top of that, merchants in Hong Kong should also provide e-payment methods like Alipay, PayMe Business, WeChat pay as well as the Octopus to make it most convenient to your customers.