A Pinterest Business account is crucial to access marketing features that can help you promote your brand on one of the fastest growing and insanely popular media platforms. In this blog, we share ideas about leveraging Pinterest effectively for SMBs including building your channel, market research intelligence, promotion and community.
Pinterest is still the ultimate platform for browsing and saving inspiration on everything, from DIY projects and recipes to fashion, beauty, architecture, and basically… anything, you name it. Besides being a beyond useful brilliant way to procrastinate, discover new brands or even to visualize and save your idea somewhere, it has become hugely popular in recent years. More businesses are taking advantage of Pinterest to plan visual seeds, allowing new customers to find retailers on the platform.
According to a research study by Oracle Data Cloud, SMBs are using Pinterest with great success, small boutique stores are seeing 70% of sales from Promoted Pins coming from new customers, and generating four times the sales lift of existing customers.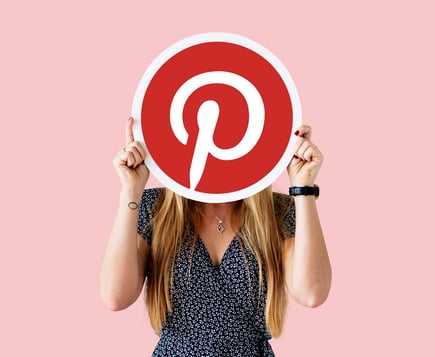 By now, you've probably seen the impact marketing on Pinterest can have for SMBs. We've already delved into the step-by-step guide to setting up your first Pinterest Business account and helpful basic marketing strategies to start off with. Besides the few marketing strategies mentioned in the previous blog, there are more ways to help small businesses benefit from creating a presence on Pinterest.
Building Your Channel
1. Tell your Brand Story
Pinterest can help you visualise your brand story to your followers and visitors. Through pictures, videos and illustrations, Pinterest allows you to show your audience what your brand is about, your company's values and company mission. The platform gives you a unique and engaging way to angle your product or services to platform users.
2. Showcase Your Brand's Expertise
Pinterest offers a great way for SMBs to display your work and showcase your expertise and stories in your industry. You can incorporate Pins with images and videos of your past work, infographics, data visualizations and blog posts. This can help increase your brand awareness and help your brand be recognised as an industry leader, providing applicable and relevant content for audience members.
3. Use Keywords, Not Hashtags
Contrary to popular belief, Pinterest actually serves as a search engine rather than a social media platform. This is why when writing a copy to describe your pins, you need to use keywords rather than hashtags. Key words will direct users to your Pins, so it is important that your selected keywords are targeted at your target audience, and are what they would type into Google. On the flipside, hashtags work especially well when there's a trending or hot topic at play, and as a way to track a campaign or online conversation.
Conducting Market Research
The platform is a perfect place to leverage more information about your visitors and followers. It's especially critical yet helpful for SMBs that may not have a large following or quite the experience to know exactly what their audience members want to see in terms of content.
Using Pinterest, you can easily review the competitors in your industry, the performance of your pins and boards, and discover the different tactics available on the platform to engage visitors and your followers. This way, you can ensure that the content you're producing is relevant to your followers.
Promoting Your Brand on Pinterest
1. Look into Promoted Pins
There are also some small-scale investments you can make on Pinterest to help boost viewership for your pins, for example launching a Promoted Pin Campaign. Promoted Pins are extremely helpful for SMBs, especially if you have little wiggle room in your marketing budget. Promoted Pins operate on a bidding system based on cost-per-click, advertisers are only charged when their ad is clicked on. Essentially, they operate just like regular pins, just with added features common to PPC alternatives, helping you increase your brand's reach and exposure, similar to Facebook paid ads audience targeting.
According to a Pinterest Webinar Series, one of the prime reasons to invest in a Promoted Pin campaign is that your content will continue to circulate for months after your ad is running. The lifespan of a regular Pin is much shorter. Pinterest is a platform where people resort to find brands they love, and also to discover new brands. With Promoted Pins, you are able to boost your top performing content or product pins to your target audience. With keywords being the centerpiece to your Pins, this will allow you to narrow down your target audience by only showing your ad to someone who is actively searching for a keyword relating to your brand, naturally giving you a better click-through-rate.
To further specify your Promoted Pin campaign, there are three different goals you can set:
Awareness campaigns: To get in front of as many people as possible.
Engagement campaigns: If you want to create content that will receive a lot of saves.
Traffic campaigns: Getting traffic to the site to generate orders.
Promoted Pins are impactful, especially for fashion accessories, boutiques, small bakeries and furniture retailers. Pinterest has also shared Success Stories on their website featuring SMBs and their stories:
2. Integrate Buyable Pins or a Pinterest Shop
On top of Promoted Pins, you can also integrate Buyable Pins with a Pinterest Business account. Buyable Pins allow people to buy products without ever leaving Pinterest. Your Buyable Pins appear in users' search results, in related Pins and under 'Shop' on your business profile.
Using Shopify
If you are an SMB currently already having an online store with Shopify, you can start selling your products on Pinterest by adding the Pinterest sales channel. All you need is an approval from Pinterest, afterwards, any product that has ever been Pinned from your online store will automatically become a Buyable Pin. All of your Pinterest orders, products and customers will automatically be synced with your Shopify online store, just like any other sales channel.
Buyable Pins allows you to control the shopping experience as a retailer, Pinterest does not take a cut from your sales, and you still get to handle shipping and customer service according to your business' preferences. Plus, you can promote Buyable Pins so that more people can discover them by turning them into Promoted Pins.
Case Study: Artifact Uprising
Artifact Uprising, a small boutique business that uses beautiful photos to make products such as calendars and cards has experienced a lot of success from using Pinterest and Promoted Pins. After one of their photo books was repinned and then written about by a blogger, many more repins flooded in afterwards, leadin to 48,000 hits to its website in the week following the initial post. Artifact Uprising, which adds Pins to its page several times a day, has, in just 18 months, grown to a multi-million dollar company.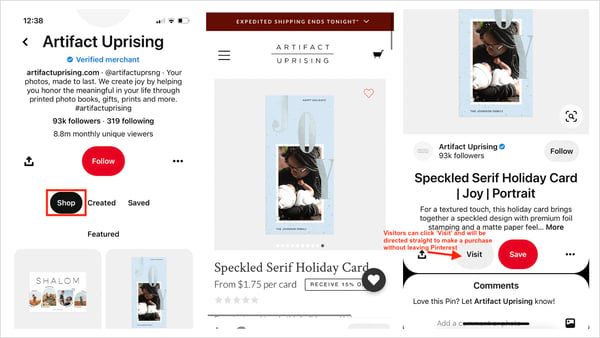 Building a Community and Engaging with Followers
As important as posting new content is, it is equally as important to build a community and relationships with followers and influencers that will grow your reach. Knowing what users are looking for when making a search on Pinterest will allow you to give them what they want, and in turn, help you grow your following. Below are three tips to get you started.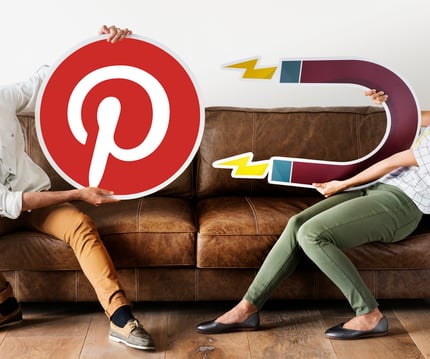 1. Post Frequently
In order to gain more followers on Pinterest, you should post regularly from 5 to 30 new pins everyday. Ensure that you're not only repinning the content of others but posting original and unique pins with your own creative content. It's also important to take note of pinning times and spreading out how much you're pinning depending on your follower's activity.
2. Engage with Your Followers and Reply to Comments
Making sure that your followers know that their queries are being addressed are critical to maintain a loyal customer base. Engage with your followers directly by answering their questions and responding to their comments. You can even go the extra mile and address them directly using their names conversationally to really take your customer service up a notch. Reaching out and leaving comments on your follower's pins are also another way to get your brand noticed and ensure that they'll feel the warmth of your brand's customer service.
3. Follow and Engage with Popular Boards
The best way to watch and learn successful Pinterest strategies are to follow and engage with popular boards. Not only can you leverage their strategies to your advantage, but also by commenting on these popular pins, your brand name will be seen by the huge number of people who follow those boards. It's also helpful to follow popular boards that are relevant to your industry and business as they will share a similar following that you're looking to connect with.


Pinterest is a powerful marketing tool for SMBs to leverage on and it would be a shame not to put it to use. It can organically help you increase brand awareness, boost conversions, increase sales and create long-lasting relationships with your target audience and buyer personas.

It is extremely useful to understand your customers in order to better reach them. If you are interested in learning more about marketing on Pinterest and leveraging the platform for your SMB, get in touch with our digital marketing expert now!