With digital adoption becoming an accelerating trend, Google has announced new Google Ad updates and features to help SMEs and local businesses thrive during the pandemic.
As current businesses and eCommerce store owners are battling their way through the collateral damage of covid-19, Google has heroically brought forward highly anticipated and innovative Google Ad Campaign updates to give your campaigns a whole new makeover.
If you are yet to set up your campaign, we have a Step-by-Step Guide on setting up your first successful Google Ads Campaign.
Google has let all business owners know what features and products are available now and which ones you can expect to roll out in the new future. With these new updates, Google has enabled SMEs more opportunities to utilise these features to explore the realm of eCommerce and how to optimize on it. As always, Google has incorporated the key idea of being in the right place at the right moment, delivering relevant and useful information to consumers, while still adding value to your customer's purchasing journey.
Google has come forth focusing on new ad formats, smart display functions and automated bidding strategies to help further advance your Google Ad campaigns. Whether you're a local business owner or an eCommerce store owner, these new updates are essential for you to digest, as these changes are going to heavily reshape the experience of browsing and advertising online for the coming year and beyond!
Now, let's dive into the few biggest announcements from Google Ad's new updates:
1. Image Extensions
Google has introduced a new ad extension known as image extensions. This feature is still in beta and is yet to be available to the global market. For now, only selected advertisers have been allowed to use this extension.
As shown in the above example from Hugo Boss, the image extension will show up as a small photo next to your text ad on the SERP. The image will compliment your ad messaging while allowing you to incorporate rich, high-quality photos as a visual to your ad. Google has also shared results with Hugo Boss' image extension and responsive search ads, Hugo Boss saw a 2.5x in return on investment (ROI) and a 5% bump in click through rates (CTR). It is expected that the new extension will drive more traffic to your site.
With the new image extension, shoppers are able to easily see your products to consider and take action in much less time. This will take them through the purchasing journey at a much faster rate, while you can achieve higher conversion rates simultaneously attracting the right customers.
2. Responsive Search Ads
If you're an avid user of responsive search ads, you'll know that Google incorporates machine learning to guarantee potential customers relevant messages that they're looking for. These new updates are available to all businesses now.
Google has come forth with a new location insertion to help you engage with consumers more effectively. The location insertion will allow you to dynamically add where your product or service is offered. Your ad will automatically include city, state, or country names based on the locations of potential customers or their areas of interest. You can check anonymized and aggregated reports to review the number of times your ad is shown using the location insertion to track its performance and have a better idea of where most of your consumers are.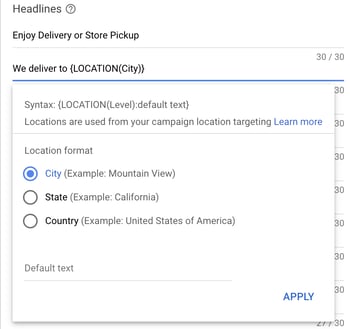 On top of this, Google has also emphasised on further customization for your responsive search ads by adding countdown customizers. This will enable you to dynamically highlight and promote sales and events in your responsive search ads. This new feature will allow you to automatically show how much time is left on your current deal so that your potential customers won't be missing out on this special offer.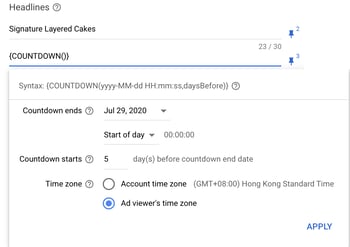 To help you manage your ads at scale while unlocking more insights, Google is introducing cross-campaign asset reporting. This will allow you to review more assets at once and understand what resonates with your customers faster. Along with this new update, asset performance reporting is already available for description lines. Google has also introduced a new recommendation where Google will identify opportunities to further improve your Ad's optimization score if your Ad strength is below 'Good'.
3. Smart Shopping Campaigns
It's old news that customers can seamlessly swipe through your image creatives on mobile. However, exciting news for retailers is that Google is now offering more visual ways to stand out from the competition and represent your brand with Smart Shopping campaigns. Although the feature is not yet available in Hong Kong, starting as of now in the U.S., businesses can now highlight features like fast and free shipping, which has proven to show an increase in average conversion rates by 9% according to Google. These highlights will be featured as annotations on your Smart Shopping campaigns.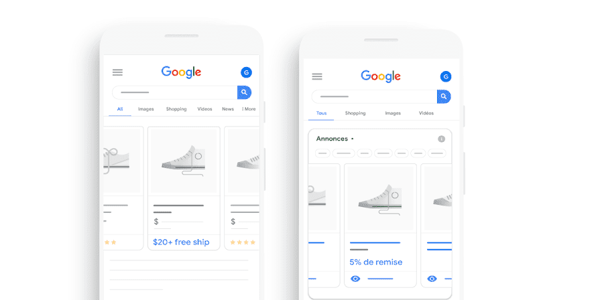 In the following year, you'll be able to better differentiate with a dynamically curated carousel of all your most relevant products to allow for a new immersive and browsable shopping experience while including video content in your Display ads.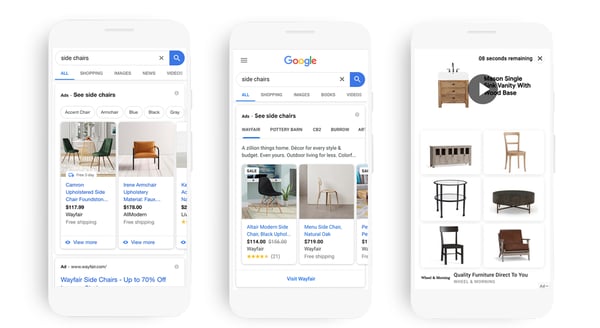 4. Search & Shopping Ads
For SMEs or eCommerce store owners who carry a best-selling product or a variety of high-quality products, Google has built on the previous innovation from Search and Shopping ads. This new update will transform the look and feel for responsive display ads to better engage shoppers while they are browsing through the vast web with your Display campaigns.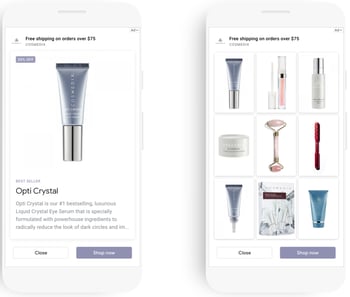 These new features are available globally -starting today you will be able to use new creative layouts, have automatically generated video ads, and updated dynamic ads. By utilising all these new features, your dynamic ads will display your business name alongside your logo, emphasize your latest promotions, and you can even spotlight a single product. This is especially useful for SMEs to leverage best-selling product(s) to increase traffic and conversion rates for their site.
5. Automated Bidding
With Google's heavy spending and research in artificial intelligence (AI), Smart Bidding has become one of the many results of that investment. Simply put, Google's AI system uses machine learning to automatically optimize for conversions in each auction. Google will take your advertising goal and use Smart Bidding to achieve that goal with your given budget. Ultimately, it does the guesswork out of bidding for you in your Google Ads. Smart Bidding essentially helps you reach the right customers at the right time to drive more online sales even through real time fluctuations.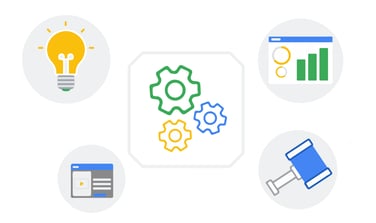 Google shared several new tools to further optimize your bidding strategies and campaigns. The first being portfolio bid strategies -they are automated, goal-driven bid strategies that assist in helping you optimize your bids across multiple campaigns. In the coming weeks, you'll be able to create, monitor and manage your portfolio bid strategies across accounts at the manager account level. By combining campaigns from multiple accounts into a single portfolio, it'll be much easier to drive higher performance across those accounts.
Alongside this new portfolio bidding update, Google has also introduced bid strategy reports. These reports provide more visibility and suggestions into how your bid strategy is working through status updates, advanced performance reports and by identifying top signals.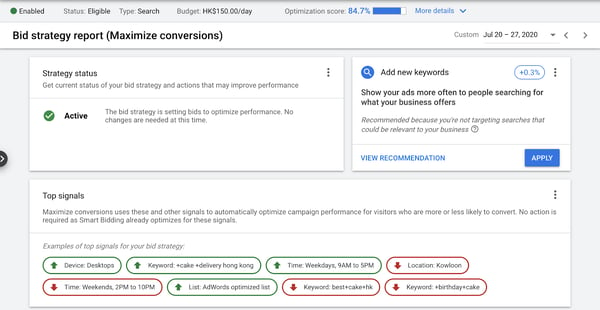 You can now also add a new customer acquisition goal to your campaign, this will allow you to optimize your Smart Shopping campaign to grow online sales specifically from customers. Google has shared that IT Cosmetics added a new customer acquisition goal to their Smart Shopping campaign and saw a 188% increase in revenue just from new customers!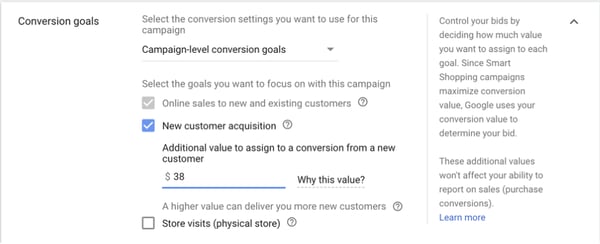 All of these new updates incorporate a high level of transparency into your bids. Google is pushing forward a feature called 'explanations' that is still in beta but will be available for Smart Bidding Campaigns. This will allow you to interpret your Ad performance better, and have better insights on what caused clicks, impressions, costs and conversions to fluctuate. Google has also announced more reporting updates to give you better insight into your automated bidding, they plan to release these updates over the rest of the year. These include limited improved top signals, conversion value estimates and more.
Conclusion
With all these new updates available now and more to look forward to, there's no excuse not to utilise these updates and features to boost the performance of your Google Ad campaigns. As a local SME or eCommerce store owner, it's vital to keep trying new features to further optimize your campaigns and track it's performance.
Google is constantly evolving along with consumer purchasing behaviour and online trends in order to better and more accurately meet the needs and demands of customers. To keep up with the eCommerce trends and stay competitive in this market requires hard effort dedicated to working on building quality Google Ads.
Make sure to check out our previous two blogs -a step-by-step guide on setting up your first Google Ad Campaign, and further steps to take to optimize your Google Ad campaign if you haven't yet. Get in touch with our eCommerce and digital marketing expert now if you need assistance in further optimizing your Google Ad!