User experience (UX) design is the practice of taking a user-centered approach to the design. UX is extremely important as it aims to fulfill the user's needs, providing a positive experience for better customer retention. A meaningful user experience allows you to define customer journeys on your website which are conducive to business success. Unfortunately, this aspect is often overlooked.
We have consolidated some interesting statistics to help you understand more about the UX trend. Enjoy reading!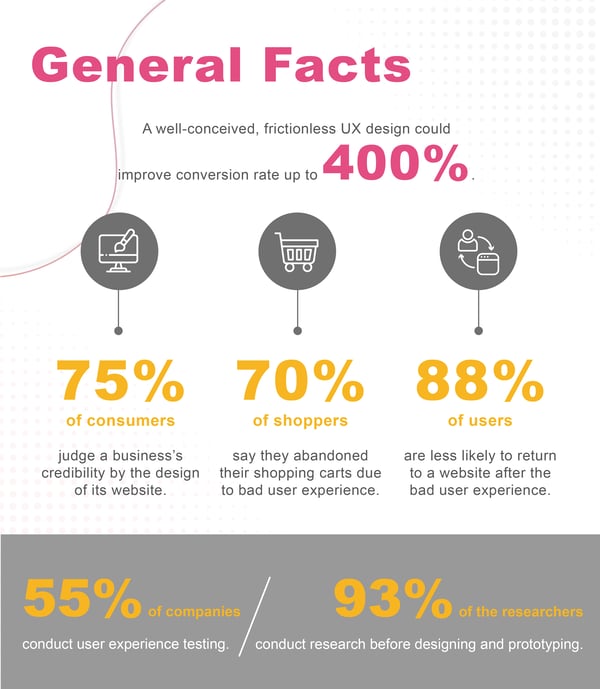 General Facts
Here are some facts about why offering a seamless and frictionless experience to your users is important for your business.
A well-conceived, frictionless UX design could improve conversion rate

up to 400%

.
75 percent of consumers judge a business's credibility by the design of its website.
70 percent of shoppers say they abandoned their shopping carts due to bad user experience.
88 percent of users are less likely to return to a website after the bad user experience.


In order to create a well-conceived user experience, it is essential to conduct user experience testing.

55 percent

of companies conduct user experience testing.

93 percent of researchers conduct research before designing and prototyping.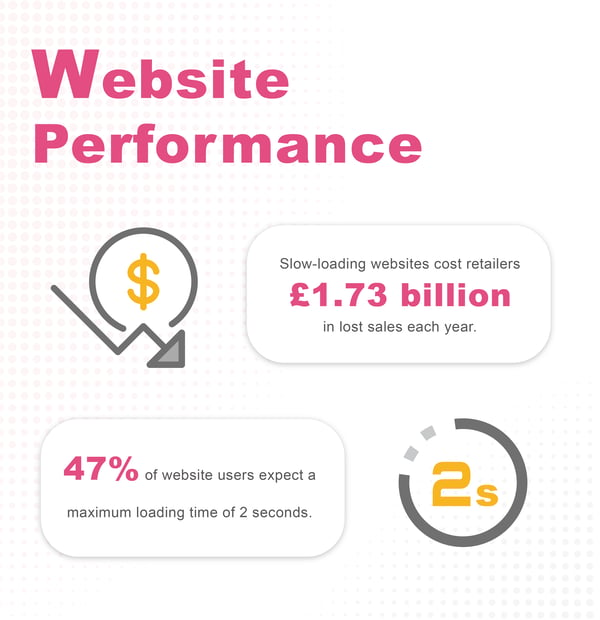 Website Performance
Providing a smooth and convincing user journey will help you drive profitable business. Among all the website factors, website speed is one of the most important ones for website usability that greatly influences user behavior.
Slow-loading websites cost retailers £1.73 billion in lost sales each year.
47 percent of website users expect a maximum loading time of 2 seconds.
These data provide strong evidence that a slow-loading website can be frustrating and is a sure way of losing customers. Therefore, providing a smooth-running site is essential and will positively impact your business.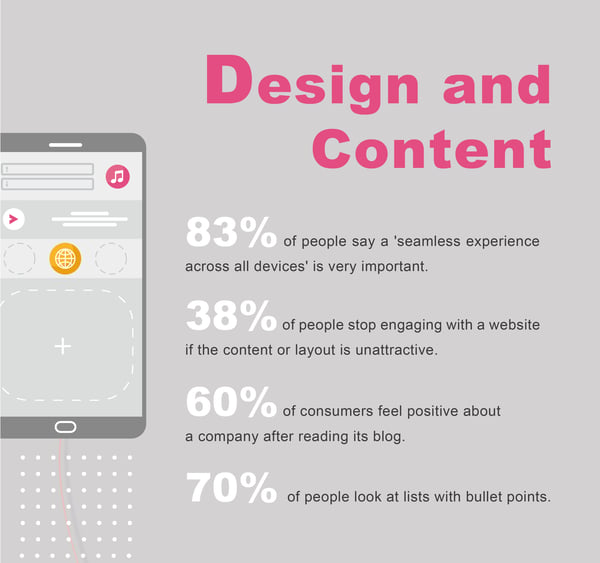 Design and Content
Having a well-designed and insightful website will help you make a good impression on your prospective customers and nurture your leads.
83 percent of people say a 'seamless experience across all devices' is very important.
38 percent of people stop engaging with a website if the content or layout is unattractive.
60 percent of consumers feel positive about a company after reading its blog. It is shown that blogs help establish credibility, trust for the company, and impact your customer's decision-making process.
70 percent of people look at lists with bullet points.
These statistics prove the importance of having a readable, appealing, and useful website. You need to make sure your content is readable across different devices and screens, and to keep optimizing from there.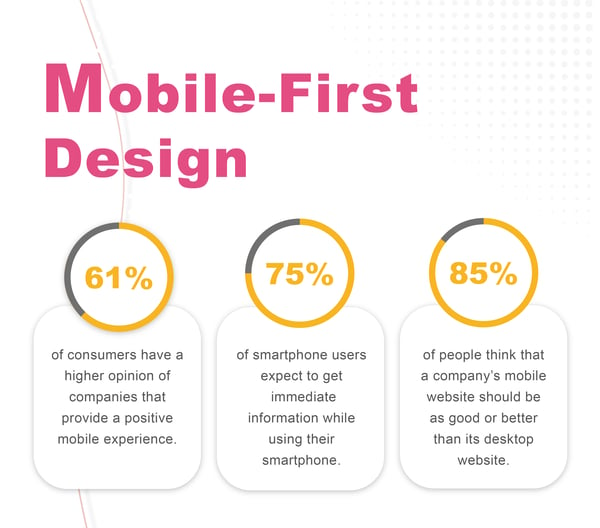 Mobile-First Design
It is a well-known fact that more and more consumers are searching on their mobiles to find the content they are interested in. Offering both desktop and mobile browsing experience is essential for B2B and B2C businesses to excel.
61 percent of consumers have a higher opinion of companies that provide a positive mobile experience.
75 percent of smartphone users expect to get immediate information while using their smartphone.
85 percent of people think that a company's mobile website should be as good or better than its desktop website.
From these data, we can see that the importance of offering a fully mobile-optimized experience should not be underestimated. It is important that businesses adapt to the latest trends and evolving customer behaviors.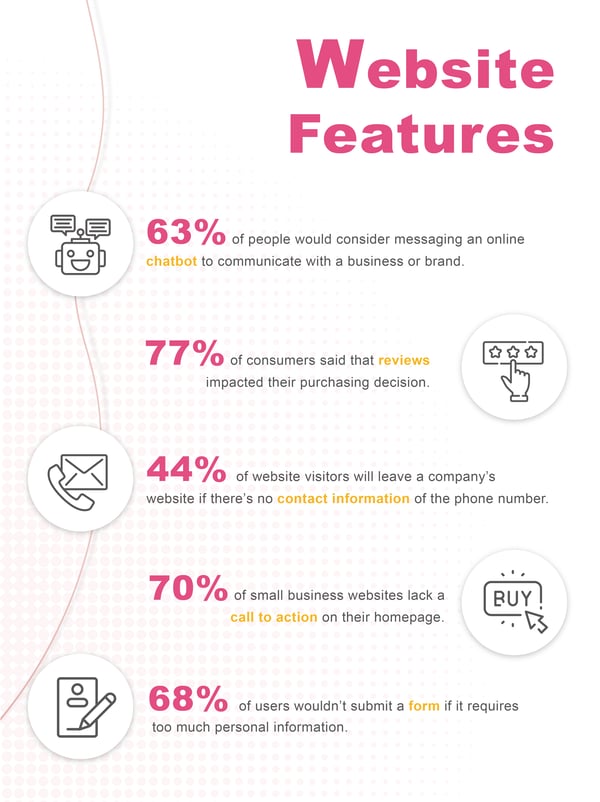 Website Features
There are many aspects that can contribute to the user experience of your website. Providing useful company information, effective communication tools, and CTAs can improve customer communication on your website, in order to maximize your conversion rate.
63 percent

of people would consider messaging an online chatbot to communicate with a business or brand. The usability of chatbot provides an interaction channel with business and services and improves the customer's experience.
Providing a smooth-running, well-designed, mobile-optimized, and functional website makes a great user experience. These UX statistics demonstrate the importance of creating a straightforward, and seamless experience for your users. We are here to help you with designing an effective and aesthetic website. Talk to our specialist to understand more!