Google My Business (GMB) is the most important online listing for any local business, as it drives the local business search results on Google Search and Google Maps. And it is totally FREE! In the blog, I would share the best practices that you can make use of this free tool to stand out in the local search.
If you don't have a Google My Business profile set up, you are missing a huge opportunity to stand out in search results.
Optimizing your GMB listing is critical not only for getting new customers but helping repeat customers to find you easily. A well-optimized GMB account would help your business stand out in the local search.
What is Google My Business?
GMB is a free service that allows you to manage your business information appearing in Google Search and Google Maps. It works on laptops, tablets and mobile phones.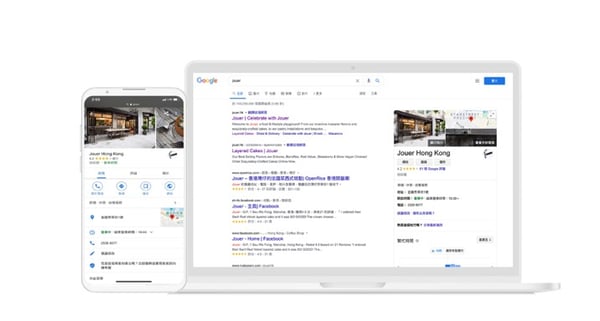 What does Google My Business Look like?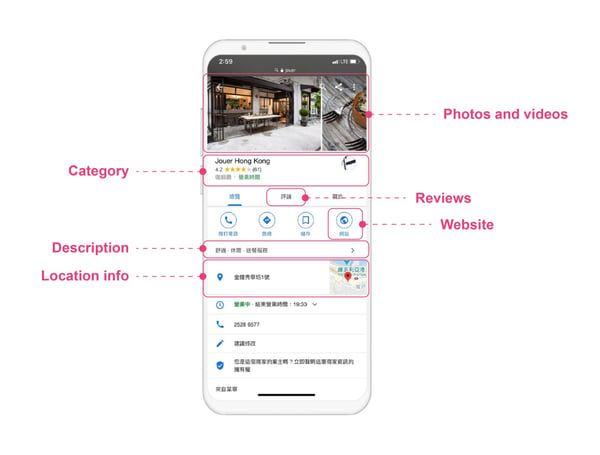 You can see the elements of your business listing in the above example, including:
Photos and videos

Service / Product Categories, and description
Reviews
Website URL
Store Address
Opening hours (with an indication of the busiest hour)
Contact info: Email/Phone Number
How to Set up Google My Business?
Firstly, you need to create or claim your brand/business. You might encounter three scenarios:
Your business is not listed
You can easily create a new business listing through https://google.com/business

. Follow the instructions to create a new listing, which is very straight forward.

Your business is listed, but not yet claimed.


You can claim the ownership of the listing. After login to your GMB account, click the "Own this business?" button and follow the instructions to verify your information and claim the listing. There are different ways to get verifications:

Phone: Google will call with verification code that you can enter into your listing

Email: Google will send an email, where you can follow the steps to click the 'verify' button.
Your business is already claimed by others.
You will need 'request access' to claim your listing ownership. In order to do so, you would have to enter the business information and complete the verification process. The request would be sent to the current owner giving him/her 7 days to respond. If the claim is denied or neglected, you can always contact Google My Business Help.


Tips to Optimize Your Google My Business
Consistency. Make sure your business name is consistent across all channels. Do NOT spam your business name with cities, search terms, taglines, or anything else.
Edit your business description. Please note that it is only shown on Google search but not Google Maps. Only the first 244 characters display on your Google listing unless the visitor clicks "More", so make sure the important keywords are shown earlier. Do not use all-caps, emojis, special characters, or any URLs.
Update business hours. Similar to the step of editing description, you can change your business in GMB by clicking "Info". Special hours or particular days e.g holiday hours can also be set if applicable. It will automatically revert back to the regular hours of operations after the holiday.
Business Location. If you have multiple stores, you may add it to additional location groups to the profile.
Business Categories. It is the most critical and directly influences your search ranking. You can take advantage of additional categories and add as many as apply to your business.

Upload appealing Visuals. This leaves the best impression of your business. You can upload JPG / PNG with file size less than 5MB; min. 720×720 pixels. Please avoid promo text on images. Your uploaded images have a higher chance of displaying on your listing instead of images that Google users upload.

Menu. This is only available for restaurant-type businesses and shows up for end-users in the Google Maps right now. You can either upload the menu, or link to your menu on your website.
Free Resources from Google My Business
Build your first website, which is Free! For businesses that do not have websites, try GMB to build a simple website. The free subdomain in the form of name.business.com is also available. Of course, you can choose to purchase a custom domain.
Google My Business Marketing Kit. Download the marketing kit from the in‑store kit which allows you to customize free social posts. Further details you may visit g.co/marketingkit for more information.
Advanced Tips: Link to other Google Products
#1 Link to Your Google Ads
When GMB account is linked to your Google Ads, the business locations can be shown as location extensions in Google Ads search results. This allows you to make the most of additional Ad space which might increase your Ad Quality Score subsequently increasing Click-Through-Rates (CTR). You will also access location-based features in Google Ads like store visits reporting and campaigns.

#2 Link Google merchant
Google Merchant Center is a tool which helps you to upload product listings for Google Shopping. To indicate which products you sell in each business location, you can link the store information in GMB account. So you can provide local product and local product inventory data for all locations.
Next Step
Now you have your GMB set up properly, you will sharpen insights including: how many people searched to find the directions to your store? how many people called your business number? how many people viewed your business photos? These insights allow you to understand more of your customers and market trend.
Hopefully, you find this blog helpful to get your Google My Business listing set up, and you can start to see its benefits to your local search! Stay with us. We shall continue to share more trends, technologies and marketing best practices on our blog, Facebook and Linkedin channels.