Being a leading eCommerce platform, Shopify works tirelessly to roll out new updates for its users. The fresh and exciting features announced during Shopify Editions Summer '22 can potentially help merchants run businesses more efficiently, simultaneously providing consumers with an improved shopping experience.
With "connection is key" being the current focus of commerce, it is no wonder that the theme of Shopify Editions Summer '22 is "Connect to Consumer". The leading eCommerce platform brings features that further assists businesses in engaging with their customers and forging relations. Here, we've highlighted 6 exciting new features that we believe will be useful for Hong Kong merchants.
Table of Contents
6. B2B ECommerce Functionalities
As most businesses now greatly depend on social media marketing, it would be a hassle to monitor communication with consumers on individual platforms. Thus, Shopify has made the conversing process easier by centralising chats all in one place. Store owners can opt to enable the chat function on the website, as well as merge conversations from Facebook, Instagram, or other messaging systems.
Not to mention, quick replies can be added to provide customers with instant answers about commonly asked questions, and there is also the added bonus of being able to share products, images, and discounts, all within a single app! And not to worry about the general outlook of the chat box as it is customizable, so you can adjust it to suit your website and brand image. Shopify Inbox possesses the ability to view metrics, so you can easily monitor chat performance by looking at the following data, which Shopify tracks:
New Conversations: the number of new conversations started

Conversations with a reply: the number of conversations replied to

First response time: median response time to new conversations

Conversations with sales: the number of conversations that resulted in sales




As each customer has their own characteristics and purchase behaviours, Shopify now allows businesses to segment their customers. Keeping long-term maintenance in mind, it is now easier for store owners to group customers based on their unique behaviours, such as how much they have spent or the number of orders they have made. Businesses can opt to create custom filters, or utilise Shopify's pre-built segments, which certainly eases the process. Since it is a revamp of saved searches, previous saved searches will instantly be moved into a segment. Furthermore, these segments are dynamic, so customers who fulfil the selected criterias will instantly be added into the segment, and vice-versa. One way you can make use of this new feature is by sending personal, revenue-driving emails that are tailored to each segment of customer.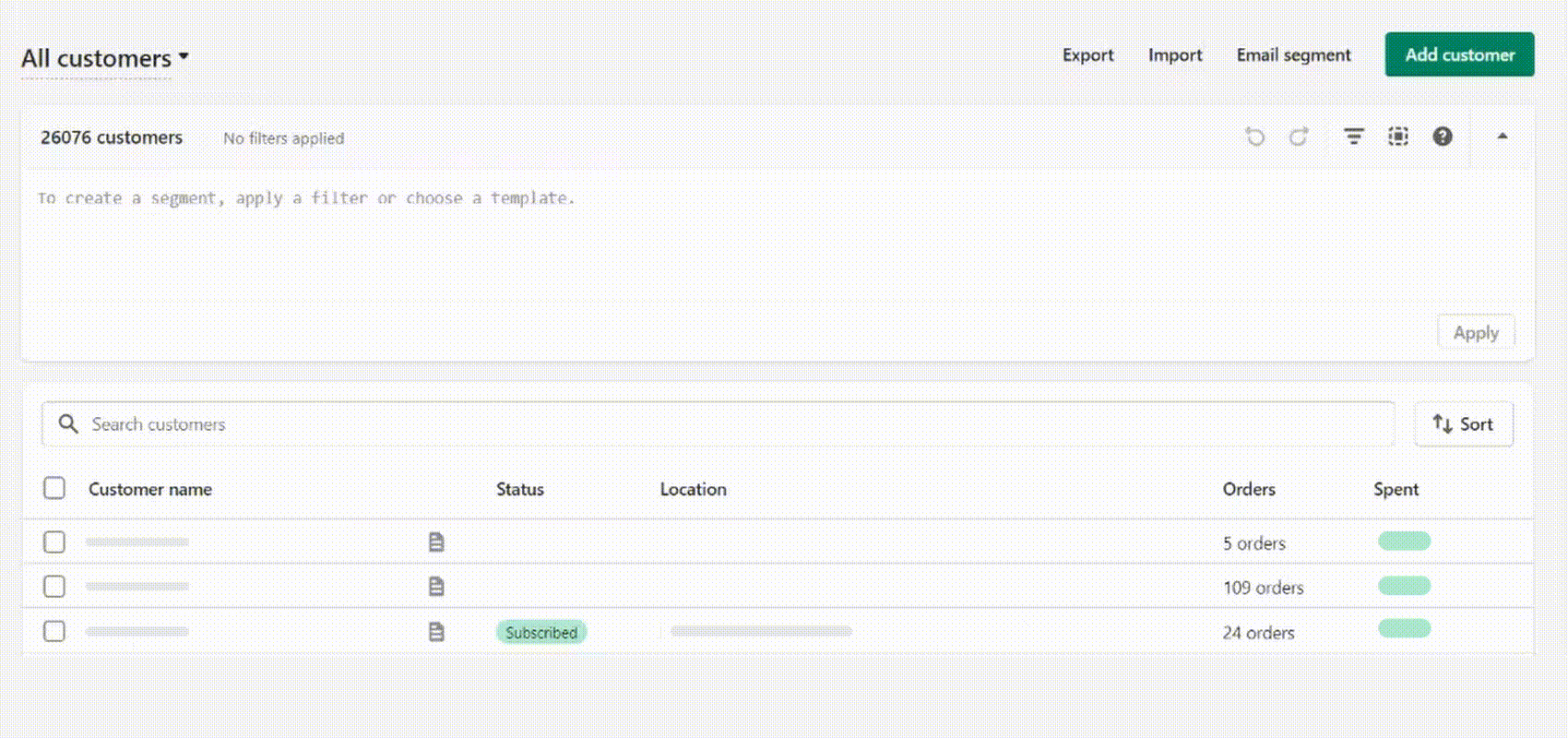 Shopify Flow works seamlessly to aid businesses in building custom eCommerce automations, no coding knowledge required! With simple trigger, condition, and action components, you can easily perform inventory management, fraud prevention, customer segmentation, and many more. As an example, a workflow can be set up to reward customers with loyalty points for adding items to a wishlist, or hide and show products based on inventory level. Knowing the importance Shopify apps play in managing a business, they have also made it possible to integrate the apps you use in these automations, such as Klaviyo, PushOwl, and Slack. The applications of Shopify Flow are endless, limited only by one's requirements and imagination.
Note: Shopify Flow is only available to businesses on the Shopify, Advanced, and Shopify Plus plans.
In correlation with the previous point, one new update worth mentioning is Shopify Email Automations. In fact, emails are still one of the most effective marketing channels as of today, proven by HubSpot's finding that it generates an incredible ROI of 4,200% (Kirsch, 2022). Thus, Shopify has made email marketing more efficient by enabling merchants to automate manual tasks, and communicate with their customers effectively. Emails can be triggered based on a customer's purchase history, critical milestones, and other actions taken while browsing the online store. With email automations, the process of sending welcome messages, post-purchase upsell emails, and customer win-back campaigns are easier than ever. This helps to save time while driving sales, which is, needless to say, every store owner's dream.
Every merchant hopes to provide their customers with the best shopping experience possible, and Shopify has rolled out two long-awaited features that will greatly enhance it!
Pre-orders: Worried about losing customers when your product is unavailable or out-of-stock? Fret not, as Shopify now offers apps that enable pre-ordering. This allows you to lock-in sales regardless whether the product is ready to be shipped. Three pre-order apps suggested to try out are PreProduct, Pre-Order Manager, and Purple Dot.
Discount Combinations: Customers love discounts, and what better way to attract them than the ability to use more than one discount code? With this new feature, you can run multiple promotion campaigns and give consumers the incentive of combining them, simultaneously encouraging them to buy more goods and giving them the feeling of purchasing at retail stores.
If your target market is not only individual customers, but other businesses as well, then this is good news! In the Summer '22 update, it is now possible for merchants to sell wholesale without expensive third-party solutions or complex workarounds. You can choose to run a single online store for their direct and wholesale business, or a dedicated B2B store. Certain features that will aid B2B merchants are company profiles, specific price lists for different clients and locations, as well as payment terms and B2B checkout. Since it is running on the same platform, merchants will get the same level of customization on their wholesale store and DTC store. Not to mention, B2B-specific filters can be applied to reports, easing the process of reviewing the business' performance, especially when using only one storefront.
Note: B2B on Shopify is only available to businesses on the Shopify Plus plan.
Summary
Although the features Shopify has recently added do not end here, these are 6 that we hope Hong Kong merchants will put to good use! Head to this link to view all the updates made for Shopify Editions Summer '22. With the rapid growth of eCommerce, it will greatly benefit businesses to utilise the improvements that Shopify has made, as they were done with the goal of helping store owners like you run a business effectively and efficiently.
Get in touch with Virtue Media's eCommerce expert now if you need assistance in taking your first step into the world of eCommerce!