CRM is not just for B2B, ECRM (eCommerce Customer Relationship Management) is designed with eCommerce KPIs. By collecting the comprehensive data view, merchant could engage their customers with targeted marketing strategies to maximize conversion.
What is eCommerce CRM?
CRM (customer relationship management) system is a central location or software that you can use to store customer details, accounts, information, and leads that can then be leveraged for future sales opportunities. When talking about CRM, most people would think of solutions like Salesforce, Hubspot, Microsoft dynamic AX. These are platforms designed for B2B companies, whose customer decision journey is usually longer, more complex, and can sometimes involve a sales call.
These tools are not the best fit for a B2C or eCommerce business.. A CRM solution for eCommerceis more straightforward, tailored specifically to B2C sales, illustrates a clear customer journey map that enables business owners to create better marketing strategies and increase their online sales.
The eCommerce CRM, or ECRM, provides a detailed view of a customer's actions on the eCommerce storefront, their contact details, order history, product interaction, revenue, and even the device used to view the store. With this comprehensive data view, merchants could then engage consumers with targeted marketing strategies to maximize conversion.
eCommerce Email Marketing vs CRM
In reality, eCommerce businesses are stuck with ESP "solutions" as their primary email marketing tool, which is oftentimes too simple and only built for batch-and-blast email campaigns. The advantages of eCommerce CRM are:
It allows the single view of the customer' behavior
Identify the customer from their past interactions
Marketing through various channels, including email marketing and social media channels.
Providing advanced analytics, especially with eCommerce as the ultimate KPI
Managing valuable customer-related data.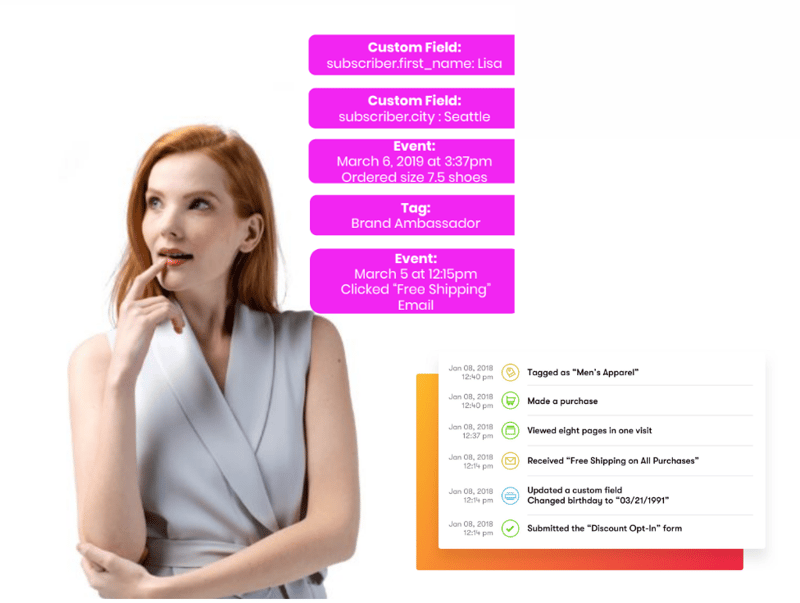 (image via drip.com)
For a more comprehensive look at how the most commonly used ESP and eCommerce CRM tools compare, take a look at this article!
Personalization, Automation and Multiple Channels
According to Accenture research, consumers tend to buy from a retailer that recommend options based on past purchases, know their purchase history and even their names. With an eCommerce CRM to collect and store every customer interaction, merchants can more easily offer different levels of personalization to their shoppers. Personalization can deliver five to eight times the ROI on marketing spend according to research by McKinsey.
Creating a personal experience for your leads and customers does take a bit more time than sending a one-size-fits-all email, but with the help of eCommerce CRM, personalization could be easily implemented. You can group your contacts by purchase history, average order value, and almost any other behavior. You can then set targeted campaigns like Shopping cart abandonment, product review, and sleeping customer win-back automatically with personalized and relevant content. With the help of automation, you can make your marketing as the sales engine to grow your store sales.
Adding social media integration to a CRM system is crucial for any eCommerce business. Social media can bring thousands of new leads through campaigns like social media giveaways or contests to attract new customers, and keep current customers engaged. With a workflow that effectively utilizes Facebook custom audiences and email marketing, you can nurture, track, and segment your leads within your sales funnel.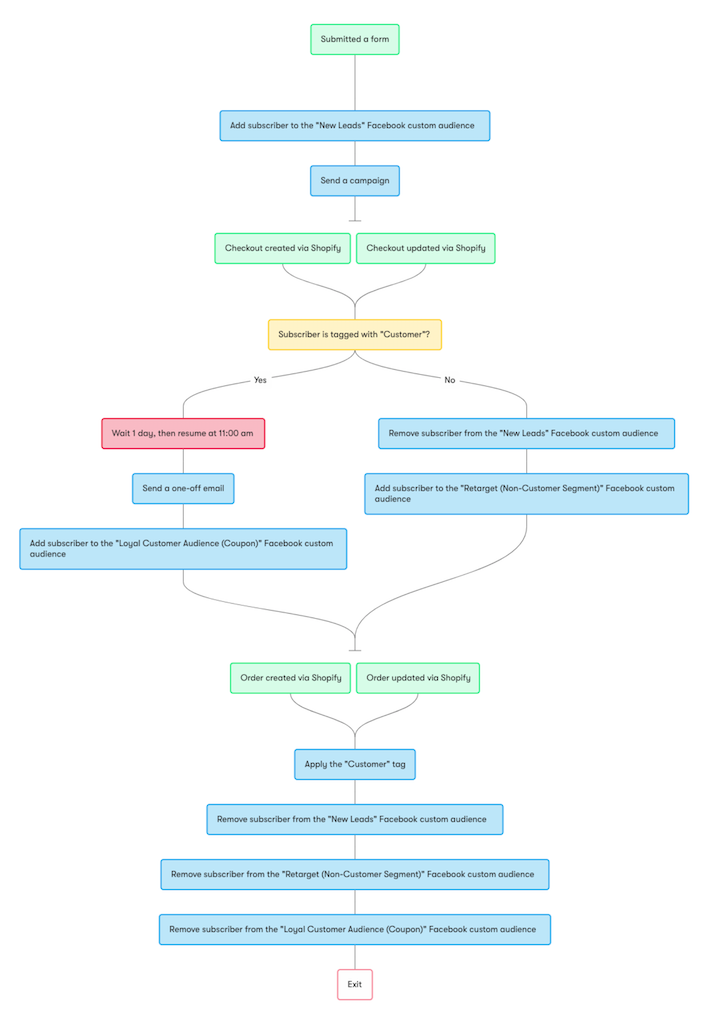 Workflow for Facebook and Email automation via Drip
Capture Lead Scores for a Full-Color Story
According to Hubspot, lead scoring is "A methodology used to rank prospects against a scale that represents the perceived value each lead represents to the organization. Job position, number of social media followers, or company size may be information valuable to your business about a lead." Lead scoring is not just for B2B, eCommerce businesses can also benefit from lead scoring with the help of eCommerce CRM.
With lead scoring, merchants can have an overview of their customers regarding who the best leads are based on their previous engagement. The lead score is a key factor in determining which customer segments you can offer loyalty incentives to. These types of campaigns can even enhance customer loyalty by providing more personalized experiences.
Summary
Getting started with an ECRM is absolutely the first step to thriving and scaling your eCommerce business. If you're looking for creative ways to engage with customers as part of your ECRM strategy, or even inspiration, reach out to us to arrange a demo for the eCommerce CRM tool, to play around with automated campaigns and workflows. Our eCommerce strategists are happy to help.