Health check of your website
Your website is the front door to your business. On average, a user would spend less than 15 seconds browsing a website, so it's important to keep your website at an optimum state. We present you the website grader tool, powered by HubSpot for you to evaluate your website in one minute.
What you can expect from the Website Grader
SEO (search engine optimization) plays an inevitable role in site visibility and SERP ranking that helps drive organic traffic to your site. The website grader would check both your website's technical and on-page SEO to let you know the issues that hinder your website performance. The extensive examination would give you a better picture of your website thus creating an effective website optimizing plan.
Your website will be graded on a scale of 0 to 100 in four important aspects, along with a list of suggested actions.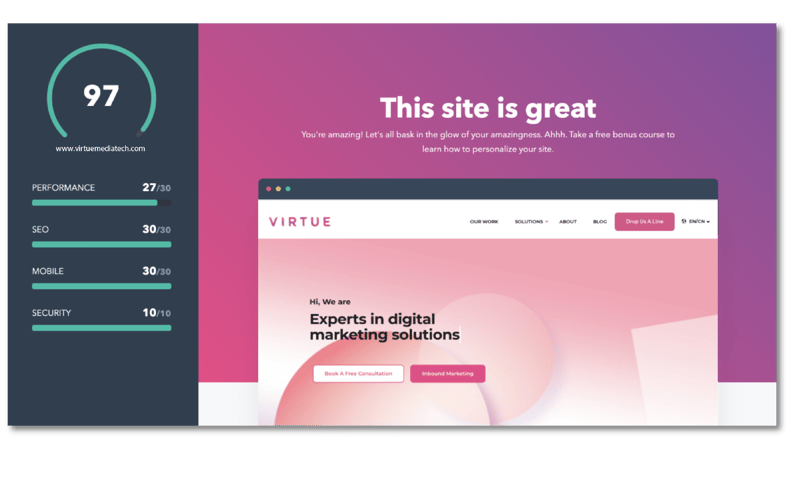 1. Performance
Page performance plays a crucial role, as online users are impatient ones, long loading time leads to a higher bounce rate, thus affecting your conversion rate and online revenues. In the performance aspect, we would test your website page size, page requests, page speed, and etc to offer a holistic performance grading.
Best practice
Page size

: The ideal page size is under 3MB, you might remove or compress heavy content such as images and video to lighten your pages.
Page requests: The optimal number of HTTP requests to your sites should be minimized to between 10-30 files.
Page speed: Your website should load as fast as possible! The perfect load time of a page should be under 5.3 seconds.
Image size: Use responsive images or SVGs to optimize your images for different screen sizes.
2. SEO
An SEO-friendly website can be ranked higher on the search engine result page. As more than two-thirds of all clicks account for the top 5 organic results, it's important to optimize your website content for people and web crawlers alike to provide a great experience then boost your organic traffic. In this aspect, we would analyze 4 elements to help you optimize your website content.

Indexing: Your web pages should grant permission to search engines for indexing in order to show the pages on search result pages. Otherwise, search engines can't store them, no other changes matter.
Meta description: It allows you to tell people what your page is about.
Content plugins: Try to avoid relying on browser plugins as search engines can't always understand their content, such as Flash.
Descriptive link text: Giving a descriptive link text helps users know what they will see if they click the link. 'Click here' doesn't cut it.
3. Mobile
More than half of overall web traffic comes from mobile, having a mobile-friendly website has become a critical part of having an online presence. The website grader would measure the effectiveness of your website by how easily mobile users browse your website can complete common tasks to make sure you won't miss out on valuable traffic and online opportunities.

4. Security
Both search engines and users love secure websites. An SSL certificate and free from vulnerabilities are standard requirements for a secure website nowadays.
Website Grader Statistics for website performance
The data below comes from over 100 million unique websites which are graded by the website grader. Take a look at it and get some idea of where your website is.
| | | | | | |
| --- | --- | --- | --- | --- | --- |
| | Overall grade | Performance score | SEO score | Mobile score | Security score |
| 2021 | 69.1/100 | 13.8/30 | 27.5/30 | 6.3/10 | 26.6/30 |
What's Next After You Use a Website Grader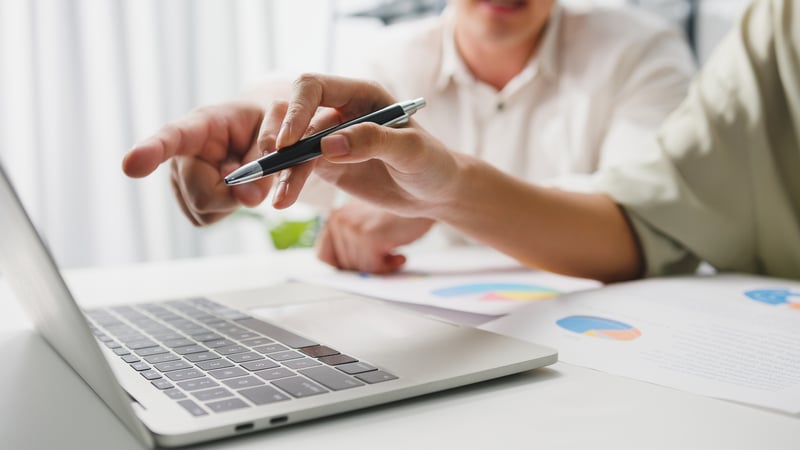 Review

: The initial follow-up action is to thoroughly review each section of the performance report and its recommendations.
Narrow it down: Identify and prioritize to address the critical issues that impact your website performance most, or the issues that can be fixed effortlessly.
Test it again: Perform another test after applying the recommendations to make sure everything is on track. Take the same steps if any improvements are needed according to the website grader report.
Schedule: Website optimizing is constantly, gradually, and not in one day, therefore, you might consider creating an optimization schedule for yourself or with the team.
Seek help: Don't hesitate to seek a digital marketing expert for professional suggestions if you needed.
Try the website grader now and see how your website is. If you have any difficulties regarding the tool or need more optimization ideas, don't hesitate to reach us.