Site Ranking is the one of the most important matters to all businesses now, more than two-thirds of all clicks account for the top 5 organic results. Here are a few steps showing you how to improve your site's SEO performance leveraging some online SEO tools to skyrocket your SERP result.
Step 1: Website Audit
Before starting SEO improvement actions, firstly, you'll need to have a full picture of your website's performance to better understand the high-performing pages and the pages that need to be improved.
Online tools like SEMrush could help you efficiently analyze the performance of your domain and its specific pages. It offers diverse toolkits, one of which is the Site Audit. The Site audit gathers the numbers of errors and warnings found from crawling to indicate your website's health.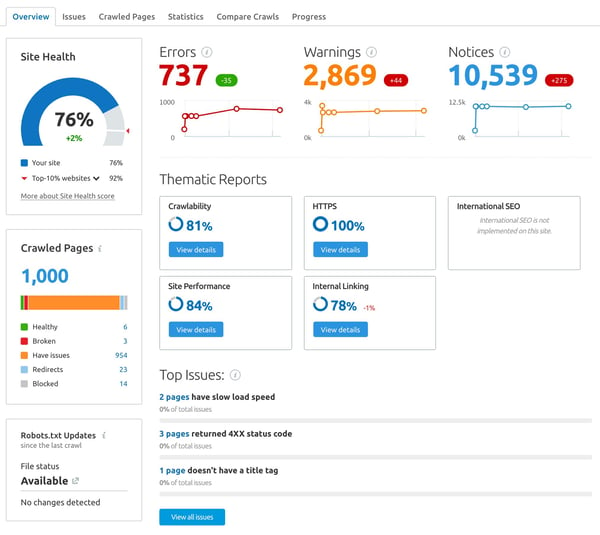 The audit report is like the anatomy of your website ranking the issues based on their severity.You should begin with the "top issues", as they are identified by having the largest negative impact on your website's health score.
The thematic report also helps you delve into the common issues of your domains within particular aspects, including:
Crawlability


The ability for search engines to access and crawl - content on your site.

HTTPS


Diagnosis of the problems related to transitioning from HTTP to HTTPS on your website.

International SEO


(Applicable to global websites only) Checking the use of the hreflang tag for common errors and misunderstandings on your domain

Site Performance
Evaluation of the information related to the site's speed and performance, including page load speed, file minification, and other issues.


Step 2: Technical SEO
HTTPS, Hypertext Transport Protocol Security, has become a salient signal in Google's ranking algorithm since 2014. Websites with HTTPS will be determined as more secure and safer to browse. Therefore, making sure all of your pages and linked pages are HTTPS is critical for SEO.
Fortunately, if you use CMS like Shopify, you can be rest assured that all your Shopify stores use SSL encryption everywhere
Step 3: Content
Content and SEO associated closely, so Content SEO is an element that we can't neglect. To achieve it, we could create high-quality content that assists your site to a higher ranking in SERP thus boost organic traffic.
Meta Title Tag
Meta title tag plays a crucial role in assisting search engines to better understand the content of your web page and determining your display title in the SERP, which has a significant impact on your site's search ranking.
Meta Description Tag
Meta description, a brief summary of your web page that gives searchers a sneak peek of the web page content. Google utilizes the meta description of a web page to generate a search result snippet.
In Shopify, editing the meta title and description for a page is effortless, no more HTML coding is needed.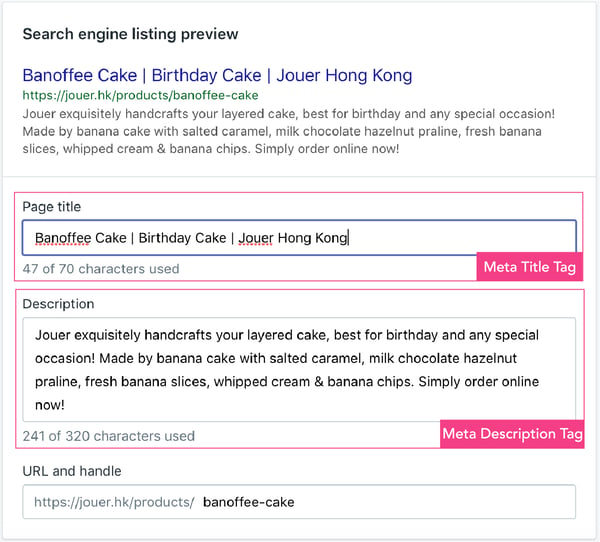 You can simply click "Edit website SEO" in the "Search engine listing preview" section. Type a descriptive title in the page title field. To optimize your title tags, remember to keep it under 60 characters to avoid cutting off with an ellipsis ("..."), and put the most important keywords at the front of your title to get a higher ranking.
Enter a compelling description. To create a compelling meta description, keep the length as 50 to 160 characters, and avoid spammy content.
Keywords vs. Topics - Content Cluster
Search engines now learned how to understand human better, which makes 'topic' became more important than 'keyword'. You still need to include popular keywords to grab the attention of web crawlers, but more effectively, you need to structure your website content in a way that helps search engines understand how topics on your site relate to each other. Content cluster is a combination of topic model and internal linking used in order to enhance audience engagement and boost organic traffic. There are three components to build a content cluster: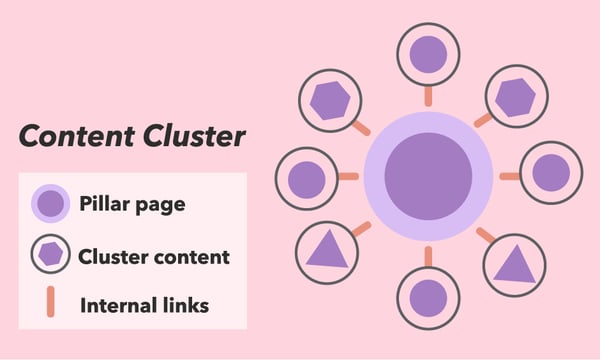 Pillar page
A web page that covers a broad topic while linking to the cluster content.
Cluster content
Content from a pillar page that is linked internally.
Internal links
Acts as the glue that links up the content within the cluster.


A content cluster allows you to build up a collection of qualified and comprehensive content to a particular topic, creating an image of "expertise" to the topic. This will raise the authority score of your website, making it easier for Google to crawl while boosting search ranking.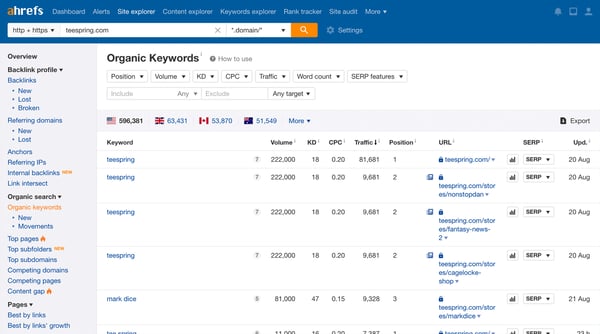 Thinking of an idea for a content cluster is not an easy task, Site Explorer in Ahref is an awesome help. With its assistance, you could get a list of competitor's keywords by analyzing their domain. You can consider using the high search volume keywords from your competitors that suit your business to create a content cluster for your website.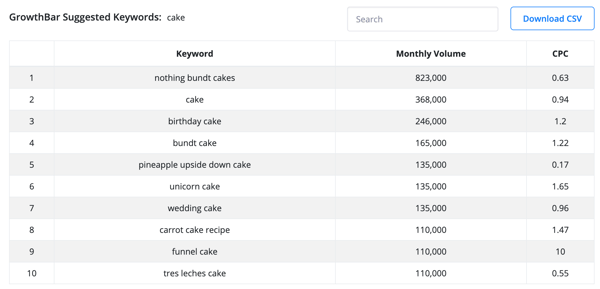 Other than that, GrowthBar is a useful Chrome extension to broaden your existing pool of keywords. You can simply enter a particular keyword, a list of semantically related and long-tailed keywords with high traffic potential will show up. You can make use of this to brainstorm your next content.
Step 4: Link building
Internal Linking
Internal linking optimization is another action that should not be ignored. Applying proper internal linking is an effective way to connect the pages of your website, helping Google's spider crawl your site easier, leading to a higher ranking.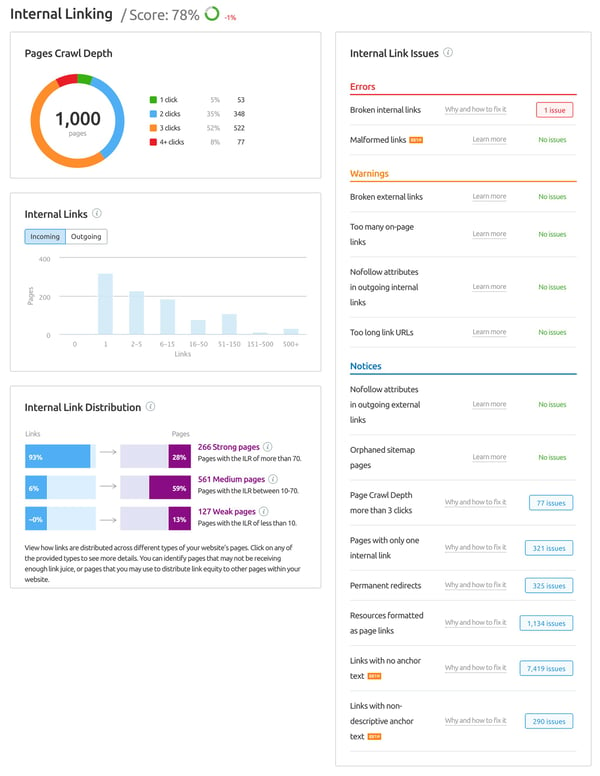 SEMrush provides an Internal Linking Audit within the Site Audit for you to find out the internal linking issues on your website, then you can simply remove or change the broken URL on the Shopify.
For an eCommerce website, if you are running blogs, you can link the content in the blog to the relevant product page by using hyperlinks to perform internal link building. (Remember to avoid hard selling in the content)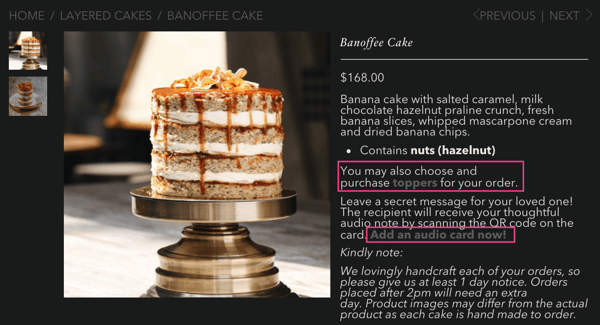 You can also link a product page to another product page. On the image shown, the "toppers" and "audio card" pages are hyperlinked to the "banoffee cake" page, which leads the customers to click and view the toppers when visiting.
External Linking
External links (also known as backlinks) are links from outside your domain that point to pages on your domain. Incorporating more backlinks does not equal higher ranking, instead, the quality of your backlinks matter more. Google prioritizes websites that end with ".org" and ".gov" as it points to a more authoritative source in the system, this would also help your website ranking. In contrast, spammy websites linked to your domain will negatively affect your SERPs ranking. So, you should always keep an eye on your domain's backlinks, who have pointed to your site and the quality.
Tracking the backlinks is not as difficult as you may think, we can utilize an online tool for monitoring. Google Search Console is a free tool for you to showcase all the links that are linked to your website.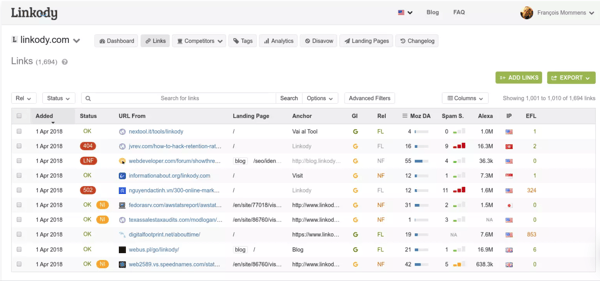 You can also use Linkody to monitor the backlinks of your site as well as your competitors, to further analyze their value and impact on domains. Try to evaluate the backlinks of your competitors and reach out to those media or online platforms for featuring.
SEO optimization is a continuous action and a long-term project. With the convenience of many SEO online tools, you can improve your site's organic search performance much easier. Not only do they assist in helping you find out technical and content issues, but they also identify and analyze your competitors' performance. Get in touch with our Get in touch with our eCommerce and digital marketing expert now if you need assistance in implementing your SEO strategies!