The line between online and offline is getting blur.
E-commerce has been treated as separate channel, in quite a few organization, e-commerce is still reported as standalone statistics for transactions and versus same-store sales in offline stores, as well as separate team working in silos. However, the line between online and offline has been becoming blur. Consumers in different stage of the buying journey constantly checking online and offline simultaneously thanks to the mobile technologies that consumers are always exposed to social, content marketing, advertising on their mobile devices all the time. It's all about enabling the shoppers to buy and get the product whenever, wherever they want.
Showrooming and Webrooming are the new types of the shopping behaviors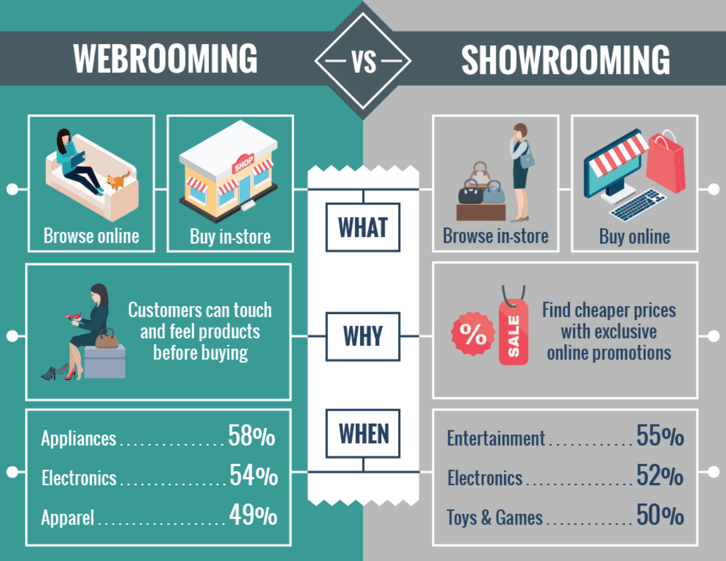 Image credit: Koeppeldirect
For different industries also the scale of the business, new types of O2O shopping behavior "showrooming" and "webrooming" are driving us to make the online and offline channels more integrated and seamless to consumers. Showrooming, meaning customers visit a store to check out what they want, then go online to find out more and buying the product via ecommerce; or webrooming, meaning customers read every available online source and ask all their friends before heading to a store to make a purchase. In Hong Kong market, where transportation is extremely convenience, and most of small or even middle scale business cannot afford renting showroom in a good location, webrooming is a more cost-effective approach to drive awareness and business
According to Merchant Warehouse Report, consumer somehow prefer webroom over showroom because of:
47% don't want to pay for shippings

23% don't want to wait for the product to delivered

46% prefer go to a store to touch and feel a product before they purchase
Why click & collect makes sense?
Click and collect one of the tactics to bridge the online and offline, and also bring more opportunities.Shoppers can browse online in the comfort of their own home or using mobile on the way, and then travel to the store at the scheduled time according to their convenience. This leads to increased foot traffic, and the convenience of the service keeps customers coming back. Shoppers made additional impulse purchases at the time of pick-up. This is a great opportunity for upsell to promote your new and existing products.
Click and Collect offers hassle-free returns. If customers are not happy with their order, they can simply return or exchange at the spot quickly and effectively. This also saves the admin and handling effort to process the returns.
Click and collect service requires great coordination between store staff and back offices. For service allowing customers to choose specific stores on specific timelines to pick up, multiple checkpoints must be set in the supply chain to make sure the process is flawless and customer is satisfied.
While, for different industry, products / services, scale of business, geographical location, there is not standard rule applies for all. Plan should be developed based on the understanding of the business by immersing into each brand and project understanding challenges, objectives and opportunities.
Any questions? Please feel free to contact us for a free consultation meeting! :)