Marketing Automation is a commonly used tactics for B2B industry. It is a technology that uses rule-based logic to automate manual work, such as data entry and lead nurturing, to improve operational efficiency and revenue growth.
You must have heard of it, but not sure where to start. Here are some quick wins you can use to start your marketing automation:
Welcome New Customer / Onboarding

Event Communication

Alert Sales for High Potential Leads

Re-Engagement with inactive leads

Interact with Your Advocates




According to Strategic IC, companies that automate lead management see a 10% or more in revenue in 6-9 months time. Companies may have already implemented the marketing automation more or less, while, even if positive results with marketing automation have been observed, there's likely more you could do for marketing automation.
This blog post will give you some ideas for automated workflows, which you can easily incorporate into your inbound strategies to engage and nurture your contacts.
#1 Welcome New Customer / Onboarding
When your contact's lifecycle stage is updated to 'customer', it is a trigger for the welcome workflow. By sending a warm welcome, or a series of welcome emails, it helps assist a smooth onboarding of the customer. For B2B companies, a lot of the time customers will need support through training, webinar or workshop, you can leverage this workflow to share some training materials on a timely basis.
#2 Use Automation for Event Communication
No matter it is an offline event like trade show, or an online webinar, the automated workflow would make your communications with the registrants more efficiently, no matter before, during, or after the event.
You can set up a workflow to provide important information like agenda, webinar links, venue and accommodations if it is an offline event. After the event, you can also set up a follow up workflow to share the slides you have used during the event to to further nurture them.
#3 Alert Sales for High Potential Leads
Make good use of the automated alerts to keep the sales team updated of your leads' behaviour on all your channels: did they visit your website after the event? Did they check the service price pages after your introduction meeting? Or did they download the white paper after your sales meeting? A few well-planned alerts can assist your sales process and give you the advantage of spotting the right time and sharing the right content when you talk to your prospects.
Tools like Hubspot allows you to get every detail of the customer's actions; however, not all the actions are worth alerting the sales team. Think of your personas, and the critical path to move the prospect further along the sales funnel. By mapping content towards different stages of the buyer journey, you will be able to deliver the right message at the right time to the right prospect.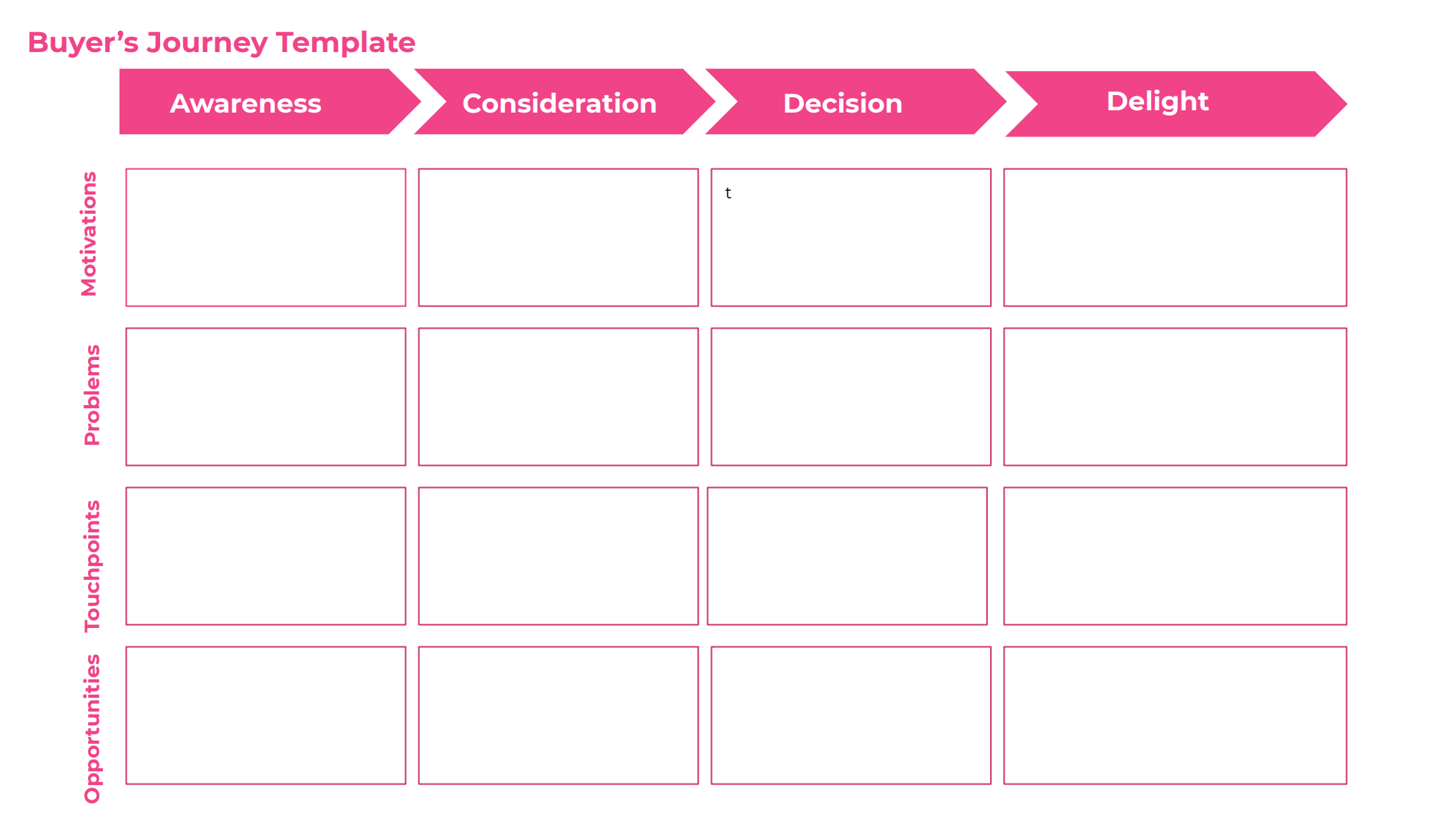 Example of the Buyer's Journey Map for Target Persona
#4 Re-Engagement with inactive leads
It takes a lot of effort and resources to get a new contact/lead, in reality, not all the leads make it through the sale process to become a customer. After a while, those leads would become inactive. You can take advantage of marketing automation to reconnect, and re-engage with the leads whom you talked to one year ago and create some new opportunities.
One thing to bear in mind, there is a fine line between 'engage' and 'bother', the differentiation is whether the content we use to connect with them is relevant to the leads. Creating list based on your contacts' interests, and only sending the content that matches to their interest is important to avoid the opt-out.
#5 Interact with your Advocates
Set up a smart list to include the contacts who really engage with you, the ones who frequently browse your website, read your blogs and click on your eDM CTAs. If there are a lot of properties that you want to filter, you can use the automation to score the lead properties to identify who are your evangelical customers.
When you have a new blog post, whitepaper or social post, you can send a personalized email to them to encourage them to share the content. As those are the customers who are already engaged with you, they will be more willing to share as a good WOM.
These are probably some low hanging fruit that you can kick off your marketing automation. Hope you find them helpful!
To achieve more and make the optimal use of these automation technologies, it is critical first to map the customer experience and use of personalized content for your industries, business and target audience.